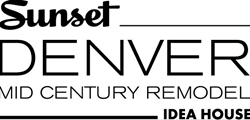 Our team is thoughtfully reimagining this gorgeous house for another lifetime's worth of living.
MENLO PARK, CA and DENVER, CO (PRWEB) July 07, 2015
For six consecutive weekends beginning August 7, Sunset (http://www.sunset.com), the premier guide to living in the West, will open the doors of its Denver Idea House. Working with the design team at Design Platform led by Jonas DiCaprio, and interior designer Megan Hudacky of cky designs, Sunset is transforming an iconic 1954 mid-century brick ranch-style home into a two-story 5,100-square-foot re-imagined modern home. The five-bedroom, six-bath Hilltop neighborhood property will be featured in the November 2015 issue of Sunset magazine and on Sunset.com. Go to http://www.sunset.com/ideahouse for more information and to purchase tickets to the Denver Idea House open houses.
With an updated, open main floor layout that reflects a modern Western lifestyle, the 2015 Denver Idea House will retain its original mid-century cool while expanding living space and creating an indoor/outdoor living experience ideal for Denver's climate. Highlights of the remodel include:

Opening the back of the house to the yard to create an indoor and outdoor kitchen with adjacent dining.
An expansive rooftop deck over the original 1950's garage structure.
Custom designed and built mid-century style built-ins and cabinetry.
A second floor addition with three expansive bedrooms with en-suite bathrooms, including the master suite with private sitting area.
"Our team is thoughtfully reimagining this gorgeous house for another lifetime's worth of living," explained Joanna Linberg, Sunset home editor. "We're making some big changes, while being sensitive to the house's architectural roots. We even ran our plans by the man who built and lived in the home until just a few years ago, and he's pleased with what's in store for it. We can't wait to show it to our fans in Denver and the rest of the West."
DiCaprio and his team drew on the home's era to add signature mid-century features to the Idea House, including built-in furniture pieces, slatted walls to increase the natural light, and additional access to the outdoors on the two upper levels. To push the home into the future, the designers collaborated on a mesh metal wall for the entry and played with metal touches throughout the home. Against this palette, Hudacky placed bold hits of color using tile, furniture, and artwork from Denver craftspeople.
The landscaping, which is being designed by Jessica Lummus of Environmental Designs, showcases drought-tolerant plantings, an edible garden, an outdoor kitchen and living room, and a fire pit.
The Sunset Idea House, located at 5131 E 1st Avenue in the Hilltop neighborhood of Denver, will be open to the public to tour from 10 am-5 pm as follows. Tickets can be purchased for $20 and are available online at http://www.sunset.com/ideahouse or on-site during tour hours.
August 7 – 9, Friday – Sunday;
August 14 – 16, Friday – Sunday;
August 21 – 23, Friday – Sunday;
August 28 – 30, Friday – Sunday;
September 4 – 6, Friday – Sunday;
September 11 – 13, Friday – Sunday.
Sunset Home & Garden Tour, August 22
On Saturday, August 22nd, Sunset and Modern Home Tours present the Denver Home & Garden Tour, an inside look at some of the most distinctive properties in the Mile High City. The self-guided tour ends at the Sunset Idea House in Denver, where Sunset will host a wine and cheese reception and a tour of the home with the Idea House design team from Design Platform and cky design. Tickets cost $60 and can be purchased at http://www.sunset.com/ideahouse. A full list of properties on the Sunset Home & Garden Tour can be found at modernhometours.com.
"Denver is the ideal place for this year's Sunset Idea House," said Sunset Editor-in-Chief Peggy Northrop. "With one of the fastest growing housing markets in the West, Denver embodies Sunset's forward-thinking and outdoor-loving lifestyle."
Sponsors of the Sunset 2015 Idea House include FirstBank, Fisher & Paykel, J. Jill, Lamps Plus, Silk, Sunbrella, Tempur-Pedic, TimberTech,Torani, and Western Window Systems. Sunset has been building its Sunset Idea Houses since 1998.
Stay up-to-date on the Sunset Idea House and Sunset Denver Home & Garden Tour by liking Sunset on Facebook (http://www.facebook.com/sunsetmagazine), and following @SunsetMag on Twitter, Instagram and Pinterest #sunsetideahouse. For additional details visit http://www.sunset.com/ideahouse.
About Sunset
Sunset (http://www.sunset.com) is the leading lifestyle brand in the West. Through magazines and books, events and experiences, and digital and social media, Sunset covers the West's best flavors, destinations, design trends, and innovations. Sunset engages and inspires an audience of over five million educated, active and affluent consumers every month through its five regional print editions—Pacific Northwest, Northern California, Southern California, Southwest and Mountain—as well as via all tablet devices and its website. In addition to its print and digital publication, Sunset showcases the region's unique lifestyle and noteworthy destinations through its flagship events, established home programs, licensing partners, books and International Wine Competition. Sunset is produced by Time Inc. (TIME), one of the largest media companies in the world.