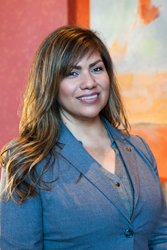 Redwood City, CA (PRWEB) July 04, 2015
Sofitel San Francisco Bay is pleased to announce the appointment of Carmen J. Morello as its Director of Catering. With more than 15 years of industry experience, Morello will oversee the hotel's catering operations for both social and business functions in more than 10,000 sq. ft. of meetings and event space.
"I worked for a number of hotels throughout my years, but the majority of my experience actually came from right here at Sofitel San Francisco Bay," says Morello. "When I got offered the position as the Director of Catering, I was super excited to know that my career would continue moving forward with an exceptional company, and I look forward to many more years Sofitel San Francisco Bay," she adds.
Before obtaining her current role, Morello began her career as a catering and sales coordinator under the Radisson® brand where she quickly rose through the ranks to Corporate Sales Catering Manager. Morello later served as the Catering Sales Manager at the Crowne Plaza Hotel. In 2004, Morello accepted a position at Sofitel San Francisco Bay to work as its Catering Sales Manager.
"We are very pleased to have Carmen be a part of our Sofitel San Francisco Bay team," says Sofitel San Francisco Bay General Manager John Hutar. "With her passion for the Sofitel brand and extensive experience in selling and managing catering services for other luxury properties, we are confident her contributions will further elevate our hotel's presence in the events sector."
Sofitel San Francisco Bay hotel offers modern luxury attentive service and beautifully appointed accommodations in a relaxing French-styled hotel set amid the shores of the tranquil Redwood Shores lagoon. Ideally situated in Redwood City between San Francisco and San Jose, this elegant accommodation is only ten minutes south of the San Francisco Airport close to many Fortune 500 companies – from Facebook and LinkedIn to Electronic Arts. Guests can choose from 421 rooms and suites on nine floors all featuring Sofitel's luxurious feathertop and duvet sleep system - SoBed.
For more information these and other happenings at Sofitel San Francisco Bay, visit http://www.sofitelsfdining.com/Happenings.
###