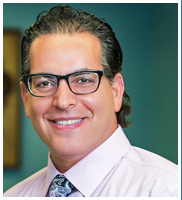 My staff and I find it incredibly gratifying to be able to touch the lives of so many people by giving them the gift of a comfortable, healthy, and attractive smile.
Morganville, NJ (PRWEB) July 24, 2015
Dr. Richard Champagne and the entire team at Champagne Smiles are proud to announce their participation in Donated Dental Services, a program created by the Dental Lifeline Network to provide free, high-quality dental treatments to at-risk patients, including those with disabilities, and the elderly. Dr. Champagne has participated in the program for several years, and recently helped a patient restore his smile and his self-confidence by providing a dental cleaning, fillings and dental crowns, free of charge.
"I'm not in pain anymore, and I can chew my food much better," one patient said. "Having this done at [Dr. Champagne's] office makes me less afraid because everyone is so friendly."
Throughout his partnership with Donated Dental Services, Dr. Champagne has donated more than $36,000 worth of restorative and cosmetic dentistry procedures for patients in need. Some of the treatments that Dr. Champagne performs for Donated Dental Service patients include dental implant placement, dental crowns, dentures, fillings, and more. Not only do these treatments help improve the appearance of the smile, but they help patients get out of pain and feel more confident.
"I am proud to offer our office's services to Donated Dental Services," Dr. Champagne said. "My staff and I find it incredibly gratifying to be able to touch the lives of so many people by giving them the gift of a comfortable, healthy, and attractive smile."
Dr. Champagne is especially pleased to be able to offer sedation dentistry treatments to his patients that are recommended through the service. In many cases, DDS patients have been unable to see a dentist for many years, and have fears about what the experience will be like. Through the friendly demeanor of Dr. Champagne and his staff, and the leading-edge sedation dentistry techniques that Dr. Champagne provides, he is able to help patients feel comfortable and safe, so they can get the comprehensive dental treatment that they deserve.
"We decided as a team that we wanted to give back to our community," Dr. Champagne said. "After researching many organizations, we felt that DDS was the right match for us to donate our services. The individuals that we get to help are those that often aren't able to receive affordable care at any other facility."
About Dr. Champagne
Dr. Richard Champagne is an award-winning New Jersey dentist serving patients in Morganville and Monmouth County, NJ. With more than 25 years of experience practicing dentistry, Dr. Champagne offers his patients the most advanced dental care in a modern, comforting environment. For more information, or to make an appointment at his practice, please visit ChampagneSmiles.com.
About Donated Dental Services
The Donated Dental Services (DDS) program offers free, comprehensive dental care to vulnerable patients throughout the US, including people with disabilities, or those who are elderly or medically fragile. DDS operates through a volunteer network of more than 15,000 dentists and 3,600 dental labs across the United States. Since beginning in 1985, the program has surpassed $250 million in donated dental treatments, and served more than 120,000 people.