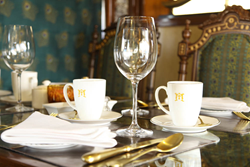 New Delhi (PRWEB) July 07, 2015
Brace yourself for a ride of a lifetime. Come September 23rd, Maharajas' Express, India's premier luxury train, will embark on a royal odyssey across the famed golden triangle and will also cover Ajmer en route. Maharajas' Express, an enterprise of Indian Railways Catering and Tourism Corporation (IRCTC), has been voted the leading luxury train for three years in a row. This special departure of this Indian luxury train on September 23, 2015 will be managed by Indian Holiday Pvt. Ltd. (IHPL), a leading National Tourism Award winning destination management company (DMC) based in New Delhi.
Winner of National Tourism Awards, Indian Holiday Pvt. Ltd. is the leading PSA-IA of the Maharajas' Express. With this special departure, IHPL will offer savings of more than 8% on the normal train tariff along with complimentary 1 night stay in a 5* hotel in New Delhi and one way free airport transfer.
When inquired about this special departure of Maharajas' Express in September, Mr. Rahul Sharma, Managing Director of Indian Holiday Pvt. Ltd. said "Maharajas' Express commands great brand equity in the West and is often referred to as Orient Express of India. Over past couple of years, we have received inquiries from guests from overseas for short journeys in September and more about some discounts or lower price. We saw this huge opportunity and chartered the train to realize the cherished dream of these clients to travel in Maharajas' Express."
To make this special departure easier on the pocket, the original tariff of this train journey has been reduced from $3850 to $3500. "Many of our clients either postponed or altogether cancelled their Maharajas' Express journey due to the steep tariff of the train. They were willing to undertake it provided we offered them some discount on the tariff. Keeping that in mind, we decided to slash the original tariff so that more guest get to fulfill their wish" added Mr. Sharma.
Mr. Sharma also added that there will be an additional discount of 5% or more on all the bookings made before 20th July 2015. "We also have something special in store for our Indian clients. The first 10 Indian inquiries that we receive will get further discounts and perks if they decide to book this IHPL special departure" he finished.
Listed among the best luxury trains in the world, Maharaja Express has won the World Travel Award thrice including 2014. With exquisite interiors, state of the art amenities and impeccable hospitality, this luxury train is an epitome of comfort, luxury and elegance.
Each guest cabin of this Indian luxury train comes equipped with RFID door locks, individual climate control, fire alarm, attached washrooms with showers and electronic safe among others. There are 2 tastefully appointed dining cars as well, offering a range of delicacies. Seating capacity of the dining cars is 88 to ensure that all guests eat together. A bar car named Safari and the lounge named the Rajah Club have well stocked bar.
There are many more features that set Maharajas' Express leagues apart and ahead of its contemporaries. Rediscover the art of elegant train traveling this September aboard Maharajas' Express in the IHPL special departure. For information on this train, journey, facilities and special offer is available on their website http://www.maharajas-express-india.com
About Indian Holiday Pvt. Ltd.
Indian Holiday Pvt. Ltd. is Preferred Sales Agent and IRCTC Affiliate (PSA-IA) for selling tickets of Maharajas' Express for the season 2014-15. Founded in 1990, Indian Holiday Pvt. Ltd. is a 2 time National Tourism Award Winning Company based in Delhi and specialists in both inbound and outbound tours and also owns India's only luxury train travel portal http://www.indianluxurytrains.com