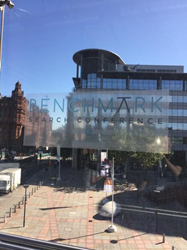 Senior figures from Microsoft, Vodafone, O2 and the Co-op shared their experience, insights and the latest digital marketing trends in presentations that were both inspiring and thoroughly entertaining
Cheshire, United Kingdom (PRWEB UK) 6 July 2015
On this sunny Tuesday at Manchester's Bridgewater Hall, attendees heard from:
Jon Myers, VP & Managing Director EMEA, Marin Software
"Search and social remain the top two channels for influencing buyer decisions."
James Murray, UK Search Advertising Lead, Microsoft
"The future of search is way beyond a search bar; search doesn't belong in a box."
Alan Reeves, Paid Search Director, Click Consult
"A thoroughly-planned testing strategy is key to conversion rate optimisation (CRO)."
Bas van den Beld, Founder & Chief, State of Digital
"Focus on relevancy and connecting with your audience."
Warren Knight, Author, Leader, Speaker, Think #Digital First
"Define your social communication strategy for each channel."
Colin Woon, SEO Manager – Marketing & Consumer, O2 UK
"Maximise the use of SEO data: it's precise, up-to-date and allows a business to better understand its customer."
David Tutin, Senior SEO Specialist, Expedia
"A successful client/agency relationship is defined by integrating clear briefs and objectives with clear reporting and priority setting."
Nick Wilsdon, SEO Lead – Global Channels Optimisation, Vodafone
"Optimise customer experiences on mobile and apps to create data-driven, personalised responses to searches."
Gino De Blasio, Search Marketing Strategist, Click Consult
"Understand how cultural differences affect user journeys for effective international content marketing."
Shyam Dattani, Digital Strategy Specialist, Searchmetrics
"A 1-second delay in page load time leads to 11% fewer page views, a 16% decrease in customer satisfaction and a 7% loss in conversions."
Paul Morris, Head of Digital & Social Media, The Co-operative
"You need to create an emotional response to make SEO work."
Rupert Staines, European Managing Director, RadiumOne Inc
"If you don't have visibility of 'dark social' traffic, you could be missing out on 70% of the leads available to you."
The full presentations from each the speakers are available on Click Consult's website.
Click's Founder & CEO Matt Bullas says:
"We were pleased to bring some of the world's biggest industry experts to Manchester for our very first Benchmark Conference, including senior figures from Microsoft, Vodafone, O2 and the Co-op, to share their experience, insights and the latest digital marketing trends in presentations that were both inspiring and thoroughly entertaining.
"The atmosphere was buzzing and the feedback from attendees and speakers alike has been phenomenal. Thanks to all the team at Click, Don't Panic and Bridgewater Hall for their help in organising such a fantastic day."
About Click Consult:
Located in North West England, Click Consult is a multi award-winning search marketing agency with a focus on organic (SEO) and paid search (PPC). With over 70 professionals employed and with a portfolio of over 80 clients from across the UK, Click Consult works with businesses looking for a tangible, measurable return from their online budget.
The agency also provides a range of other services, including content, outreach, social engagement and conversion rate optimisation (CRO), as well as international and multilingual search marketing. Click Consult is a Google AdWords and Microsoft adExcellence certified company.