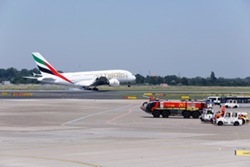 Putting Düsseldorf Airport on the map of worldwide A380 stations
Düsseldorf, Germany (PRWEB) July 03, 2015
It's finally here: the Airbus 380 now flies daily for Emirates Airlines' noon connection between Düsseldorf Airport (DUS) and its hub Dubai. The giant aircraft landed on DUS' runway on time on July 1 at 1:19 pm. The newcomer was greeted with a customary water fountain spray by the airport's fire department, which many spectators watched live from the airport's visitor platform. This year's premiere of the Airbus A380 in scheduled service is a highlight for the region's airport fans and a huge success for North Rhine-Westphalia's largest airport. Representatives from the industry, politics and business celebrated the first flight at a welcome reception -- until the world's largest passenger aircraft took off again to Dubai.
Introducing the Airbus flagship strengthens DUS' position as North Rhine-Westphalia's most important airport. It also continues the success story of Emirates Airlines and its connection between Düsseldorf and Dubai, launched in 2001. The airline from the United Arab Emirates has two daily connections between Düsseldorf and Dubai. By using the larger and more modern A380 aircraft on the noon flight, the airline is able to offer more seats and a special flight experience.
Says Dr. Ludger Dohm, airport management spokesperson: "Today is a special day in the history of Düsseldorf Airport and for North Rhine-Westphalia. The start of regular service with the world's largest passenger aircraft – the Airbus A380 – is an event that our region has been looking forward to for a long time. We started planning and preparing construction two and a half years ago and have been working towards this day. We are very grateful to Emirates for putting Düsseldorf Airport on the map of worldwide A380 stations. The airline and Düsseldorf Airport have been partners for 14 years, and it's been a successful partnership. People will come to the airport to see the A380 – not just today, but for the next days and weeks. Düsseldorf Airport has gained a major attraction."
To be able to handle the giant aircraft, DUS implemented structural changes – an investment of about five million euros. A modern connection on two levels and with three moveable passenger bridges was built for swift and safe passenger boarding and disembarking. One of the height-adjustable bridges leads passengers directly into the upper deck of the Super-Airbus.
Says Thierry Antinori, Emirates Executive Vice President and Chief Commercial Officer: "We are excited to be the first airline that offers regular A380 service to Düsseldorf, the capital of North Rhine-Westphalia. It is essential for us to employ jets with larger capacities, so we can meet passenger demand for flights between one of Germany's strongest economic regions and emerging economies in Asia, Africa, and the Near and Middle East via our hub in Dubai. The Emirates A380 is one of the most efficient aircrafts in the skies. Thanks to its unique cabin equipment, the Emirates A380 offers its passengers in all cabin classes an amazing travel experience. First-class passengers, for example, can enjoy the world's only spa shower, and the board lounge and bar are a popular meeting point during the flight for first and business class travelers. Moreover, passengers can enjoy the award-winning on-board entertainment program with more than 2,100 on-demand channels and free Wifi."
Emirates utilizes the Airbus A380 with a configuration of three cabin classes and 519 seats – 14 private suits in first class, 76 flatbed seats in business class, and 429 modern economy-class seats with private screens. The upper deck features an exclusive board lounge with bar for first and business class guests.
Flight Plan: Düsseldorf (DUS) – Dubai (DXB):
EK055 (DXB to DUS) dept 8:30am, ar 1:25pm; daily (Airbus A380)
EK056 (DUS to DXB) dept 3:25pm, ar 11:55pm; daily (Airbus A380)
EK057 (DXB to DUS) dept 2:55pm, ar 7:45pm; daily (Boeing B777-300ER)
EK058 (DUS to DXB) dept 9:25pm, ar 5:50am(+1); daily (Boeing B777-300ER)
In League with New York, London, Paris and More
Düsseldorf Airport is connected nonstop with the many airlines serving seven airports in the United States: Atlanta, Chicago O'Hare, Fort Myers, Los Angeles, Miami and two airports in New York – JFK and Newark. Passengers who are continuing their journey beyond Düsseldorf Airport find a modern and convenient airport providing easy transfer to destinations in Germany – such as Berlin, Munich, Stuttgart, Hamburg, Dresden, Leipzig, Nuremberg or Frankfurt – as well as all major European destinations – from Stockholm in the North to Rome in the South, from Lisbon in the West to Moscow in the East. Throughout the year, more than 60 airlines offer more than 190 destinations in almost 50 countries. Düsseldorf Airport's attractive layout offers short passageways and a compact architecture. Just one terminal building connecting to three gates guarantees a smooth and easy path to and from the aircraft, with a connecting time of as little as 35 minutes.
The airport is at the center of the Rhine Ruhr area, a bustling network of 53 connected cities and 18 million residents within 40 miles. It is the EU's third largest market in volume and spending and equal to major metropolitan regions like New York, London and Paris. 500,000 companies are located in the area, including 5,000 offices of foreign corporations, the majority from the Netherlands, Japan and the USA. Many major international industry players, including Fujifilm Europe, Nokia Siemens, Novell, Ericsson, Deloitte & Touche, McKinsey, and Toshiba, are headquartered in Düsseldorf, which is a first-rate location for high-tech concerns. International presence and fast accessibility – guaranteed by DUS being one of Germany's major hubs – make the location highly attractive.
Düsseldorf and North Rhine-Westphalia, ranked 17 in GDP among the world's major industrial centers, are also home to some of the most significant exhibitions and trade shows in the world. Of the 50 annual events at Düsseldorf's Exhibition Center, 23 lead their industry worldwide, for example, printing technology ("drupa"), plastics and rubber ("K"), medicine ("MEDICA" and "REHACARE INTERNATIONAL"), leisure time ("boot") or packaging ("interpack"). For more information on Düsseldorf Airport, visit http://www.dus.com.
Düsseldorf Tourism & Marketing GmbH is the visitors and convention bureau of the city of Düsseldorf. Its services include tourism and city marketing, conference and meeting marketing, hotel reservation services, fairs and convention services, city event ticket sales and advance ticket reservations. For more information, visit http://www.visitduesseldorf.de.