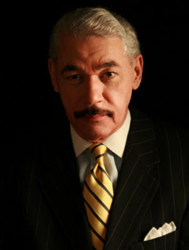 "We're committed to our shared calling to help all people achieve financial security and peace of mind." Debbie Gerlicher, Co-CEO of First Financial Security, Inc. LiSA Initiative Chair.
Atlanta, GA (PRWEB) July 07, 2015
First Financial Security, Inc. announced today that respected entrepreneur, best-selling author and global networking expert, Dr. George C. Fraser, will be a special guest speaker at its annual Leaders Convention 2015 July 15-18 at the M Resort Spa & Casino in Las Vegas. Dr. Fraser is scheduled to speak twice during the four-day event – once on Wed., July 15, at the LiSA Initiative meeting, a grassroots women's financial movement that FFS sponsors, and to the entire convention during Fri., July 17's Leadership Session.
The decision to invite Dr. Fraser to speak during its convention is the natural progression of a deepening partnership between the financial services provider and Dr. Fraser. This powerful alliance based on common values, purpose, and a calling to bring financial education and innovative products that have a generational impact to all Americans.
Several FFS leaders recently returned from last weekend's highly successful Power Networking Conference 2015 in Dallas. For 14 years, Dr. George Fraser has brought top leaders, educators, entrepreneurs and many others together for his annual four-day, business and networking summit. This year, First Financial Security was proud to be one of three Strategic Partners for the event.
FFS representatives spoke to attendees, including Debbie Gerlicher, FFS' Co-CEO and Chair of LiSA Initiative, who reiterated the organization's dedication to Dr. Fraser, his organization and its cause, in her remarks to those in attendance.
"FFS and LiSA will stay the course, Dr. Fraser," Ms. Gerlicher said. "We're committed to our shared calling to help all people achieve financial security and peace of mind."
During the course of the event, Dr. George Fraser spoke often about FFS, LiSA Initiative, and the important role the two organizations would play in his group's future goals.
About First Financial Security, Inc.:
A national brokerage agency, First Financial Security, Inc. (FFS) is a leader in providing financial services to meet the needs of Middle Americans. FFS has made a commitment to change the face of insurance through diversity and innovation.
First Financial Security, Inc. is committed to providing people with a financial education, access to products and financial concepts, and an empowering business opportunity to help put them in a position to succeed and find the peace of mind that comes from financial security.
Partnering with some of the country's leading insurance carriers, First Financial Security equips, trains, and supports thousands of licensed FFS field associates, who deliver quality financial products to households across America.
First Financial Security, Inc. is headquartered in Norcross, GA, a northern Atlanta suburb, and is led by Co-CEOs Phil and Debbie Gerlicher and President Meg Jones.
Join the conversation and stay up-to-date on the latest industry and First Financial Security, Inc. news by visiting our Facebook and following us on Twitter @FFSNews. Also, be sure to check out our YouTube Channel.