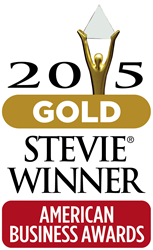 Company culture is the backbone of everything we do. It is what helps us achieve what no other company can in the pest control industry. -Vess Pearson, President
Provo, UT (PRWEB) July 06, 2015
The American Business Awards has announced Alterra Pest Control as the winner of the first place gold award as the "Fastest Growing Service Company of the Year" for 2015. The American Business Awards are the world's premier business awards that honor and generate public recognition of the achievements and positive contributions of organizations and working professionals worldwide. More than 3,300 nominations from organizations in virtually every industry were submitted this year for consideration. In short order, the "Stevie" has become one of the world's most coveted prizes. Stevie Award winners in the past include Apple, Samsung, Ford Motor Company, Procter & Gamble, BASF, among many others.
Alterra was also honored at the recent ceremony last Monday in Chicago with two more silver awards. One of these silver place awards was for the "Company of the Year" in the "Business Services" category. The second went to Alterra's CEO David Royce for "Executive of the Year" in the "Business Services" category.
"We are excited and humbled to be recognized nationally by such a prestigious organization, alongside an incredible group of business leaders. We are also very grateful for Alterra's tribe of associates and management team who have passionately helped us build Alterra into what it is today." – David Royce (CEO)
"Company culture is the backbone of everything we do. It is what helps us achieve what no other company can in the pest control industry. As a result, we have a very bright future ahead of Alterra and it's a great feeling to have these achievements recognized by such an outstanding institution." – Vess Pearson (President)
Alterra is North America's number one fastest growing pest control company (PCT Magazine). Founded in 2012 and having expanded into more than 1,100 cities with more than 250,000 customers, Alterra has mastered its mission of responsibly protecting families and the environment. Alterra practices environmental responsibility utilizing products of the highest standard, and is a proud member of the Environmental Protection Agency's Pesticide Environmental Stewardship Program.