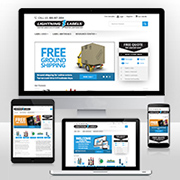 These improvements will provide unmatched service and value to our customers, setting Lightning Labels apart in the marketplace.
Denver, CO (PRWEB) July 07, 2015
Lightning Labels is excited to announce the launch of its new and improved website, which boasts a host of upgrades in addition to introducing a number of never-before-seen features.
Customers will be delighted by the enhancements, which include:

A faster and more user-friendly online quote and ordering process
The ability to duplicate previously placed orders and update quantities as needed
The option to reorder specific items from previously placed orders
Improved order history search options that allow customers to input a date range, order number or P.O. number
An upgraded account management dashboard
An Optimized Browsing Experience
The site also has a cleaner, brighter and more streamlined look and feel to make it easy to learn about the benefits of ordering with Lightning Labels, read customer testimonials, find out about different materials and discover the product options available. Lightning Labels provides custom labels and stickers for everything from food and beverages to cleaning supplies. Such a large assortment of products requires a range of label materials, and Lightning Labels does not disappoint in this regard. Its offerings include eco-friendly options like Biostone and recycled vellum, plus elegant options like gold polyester and satin acetate cloth and much more.
Meanwhile, the Resource Center is the place to go for customers who want to:

Find out more about how to order stickers and labels
Peruse the artwork specifications in greater depth to get information about supported software, layout requirements and other considerations
Learn about what's going on in the world of labels by reading the company blog
Check the Frequently Asked Questions page before reaching out to Lightning Labels via the Contact Us page or through social media
Operational Improvements to Bolster Customer Experience
In a bid to further improve the customer experience, Lightning Labels has gone beyond upgrading its website. The company has increased the operations staff at its Denver facility, invested in upgrading its workflow automation processes and is installing a new state of the art digital press.
"This is truly an exciting time at Lightning Labels," said AnneMarie Campbell, director of business development at Lightning Labels. "Together, these improvements will provide unmatched service and value to our customers, thereby setting Lightning Labels apart from its competitors in the marketplace."
Visit the new Lightning Labels website now at http://www.lightninglabels.com!
About Lightning Labels:
Lightning Labels uses state-of-the-art printing technology to provide affordable, full-color custom labels and custom stickers of all shapes and sizes. From small orders for individuals to the bulk needs of big businesses, Lightning Labels is equipped to handle and fulfill custom label and sticker projects of all types. Best of all, like the name implies, Lightning Labels provides a quick turnaround for every customer's labeling needs. Uses for Lightning Labels' custom product labels and custom stickers include food packaging and organic food labels, wine and beverage labels, bath and body labels, and nutraceutical products, such as vitamins, essentials oils, and herbal remedies, as well as event stickers, adhesive window stickers and more. Lightning Labels strongly supports the development of environmentally friendly printing materials and carries EarthFirst PLA, a new kind of green label material made from corn instead of petroleum. While operating as a high-tech printer, Lighting Labels prides itself on its personalized customer service. Lightning Labels provides one stop shopping for all of your custom label needs. For more information and to place orders online, visit LightningLabels.com. For the latest in packaging news and labeling promotional offers, find Lightning Labels on Twitter (@LightningLabels), Facebook, Pinterest, Google and LinkedIn.