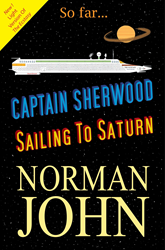 The Ecstasy novel has its worthy place in the history of literature but it's not for everyone.
Holtsville, NY (PRWEB) July 06, 2015
Author Norman John is pleased to announce a new, revised version of his début novel "The Ecstasy" is now available in the amazon.com kindle format. The new edition is titled, "Captain Sherwood – Sailing To Saturn". Norman John became increasingly concerned in recent months that the level of vulgarity and detail of sex scenes in "The Ecstasy" could present a significant deterrent to the wider audience of readers who appreciate a good space adventure, mystery or techno-thriller story but tend to be offended by cruder or more mature content: "The focus of the original concept of the story was never about sex specifically or tough language, but rather about the excitement and thrill of traveling to Saturn in the future in a commercial space cruise liner."
The initial inspiration for writing "The Ecstasy" was the excitement of creating an adventure that had not been experienced before in literature or movies, the fun of traveling through the solar system on a space cruise ship. As it happened, upon choosing "The Ecstasy" for the name of the ship, a shift in purpose and focus steered slightly more in the direction of erotica and violent action, suspense and raw realism. "The Ecstasy" has its worthy place in the history of literature but it's not for everyone.
Norman John feels CSSTS will be more easily digestible by the average reader, with less embarrassment or cringing that may occur when coming upon the more mature content.
A couple of other areas or scenes were also reworked that John was not completely happy with such as a significant re-writing of the scene with the Physics Club. While not an important or critical scene John, having been a former physics major for his first two years in college before switching to a concentration in philosophy, had a strong desire to attempt to sort out the problem of faster-than-light travel. The main problem though, he hadn't kept up with current physics and spacecraft propulsion theories or technologies and didn't feel it was necessary to delay publishing "The Ecstasy" by spending months trying to get up to speed on current theories and technology regarding space craft and propulsion engineering.
"It was the most frustrating scene to write. I had a persistent, nagging feeling that intuitively I could think of a solution to the problem and yet I was so out of touch with current research I inevitably would feel foolish and naïve, no matter how I wrote the scene. Then having read Timothy Good's book 'Earth – An Alien Enterprise' I had to reconsider things again and try not to be totally ignorant despite my lack of professional education and training in the fields of physics, space craft engineering, rocket propulsion and space travel."
Even with the reduction of mature content it still remains to be seen how many readers are prepared to take on a 3 part saga over 700 pages long: "There are about 100 characters in the story and the scenes constantly jump from one group to another making it a challenge to keep track of everything going on. There's also quite a bit of technical jargon. It still may not be for everyone. It's a challenging read to say the least."
More information can be found about the new novel at the official website.