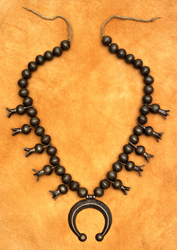 "As a collector and connoisseur, I am drawn to American twentieth century silver both for its beauty, and for the heritage it represents." ~Guest Curator Margo Grant Walsh
Cody, Wyoming (PRWEB) July 07, 2015
"Adornment in the West: The American Indian as Artist" celebrates a rich and vibrant heritage of creativity, artistry, and design, and showcases items of personal adornment created by past and contemporary master American Indian artists. The exhibition also represents an impressive collaboration with the Cody community, as several private collectors—Center of the West trustees and members, along with many other individuals—have generously loaned their own pieces for display.
In addition to those privately-owned items, the nearly 230 objects on view in the exhibition also include items from the Center's Plains Indian Museum collection and loans from the significant American Indian jewelry collection of the Millicent Rogers Museum in Taos, New Mexico.
"The artists represented in the exhibition are from tribes all over the western United States and Alaska," says Rebecca West, Curator of Plains Indian Cultures and the Plains Indian Museum. "The objects range from concho belts and bolos to necklaces, glass and bone beads, beaded bags and vests, pins, cuff bracelets, and just about every type of personal adornment one could imagine," she adds. The exhibition includes selected clothing from the 1900s through the present as well.
West credits Center of the West Trustees Margo Grant Walsh, who is the Guest Curator for the exhibition, and Naoma Tate with fostering the concept for Adornment. "Both have spent a lifetime lovingly and painstakingly assembling remarkable collections of their own exquisitely-designed and beautifully-crafted jewelry and silver wares," notes West.
Grant Walsh explains, "As a collector and connoisseur, I am drawn to American twentieth century silver both for its beauty, and for the heritage it represents." A member of the Pembina Band, Turtle Mountain Tribe, Chippewa Nation, Grant Walsh notes, "As artisans, American Indian artists are perhaps the single largest group in America to still maintain the European tradition of family apprenticeships, small shops, technical refinement, and innovation.
"Through their artistry," she adds, "American Indian silversmiths honor their own familial ties, tribal customs, and culture." Adornment in the West remains on view on the main level at the Center of the West through October 16, 2015. For more information on this exhibition and additional American Indian exhibits and programs, contact West at rebeccaw(at)centerofthewest(dot)org or 307-578-4049.
Since 1917, the award-winning Buffalo Bill Center of the West in Cody, Wyoming, has devoted itself to sharing the story of the authentic American West. The Center, an affiliate of the Smithsonian Institution, is operating its summer schedule, 8 a.m. – 6 p.m. daily. For additional information, visit centerofthewest.org or the Center's pages on Facebook and Google+.