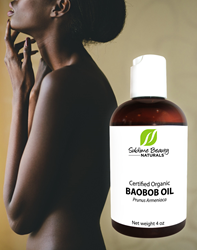 The exquisite Baobob Oil is wonderful for scars, stretch marks, eczema and a host of skin issues - plus, of course, dry to normal skin care.
St. Petersburg, FL (PRWEB) July 07, 2015
Starting today, the exotic and exquisite Baobob Oil is available from Sublime Beauty NATURALS® on Amazon. A special 50% offer is in place for a limited time with coupon code BAO50PRX.
"Baobob trees live between 3,000 and 5,000 years, and are incredibly resilient," says Kathy Heshelow, founder of Sublime Beauty NATURALS®. "It is the only tree that can survive being stripped of its bark, and regenerate. The oil brings these regenerative powers to our skin."
Baobob Oil is known around the world as a wonderful treatment to reduce scars (post-surgical, wounds, acne, and post-eczema scars among others) and stretch marks; to help manage conditions like eczema, dermatitis and psoriasis; and is a nourishing oil for normal to dry and aging skin with help for wrinkles.
It contains high amounts of Vitamin C and Calcium. Baobab Oil is also packed with vitamins A, D, E and all the B's, minerals such as magnesium and zinc plus the Omegas 3, 6 & 9. Baobob Oil boosts collagen production and helps improve elasticity of skin.
The U.S.D.A. Certified Organic Baobob Oil from Sublime NATURALS is offered in an amber bottle with flip top and is well-sealed. The oil resists rancidity but should be kept away from direct sun. It is very silky and rich, with a deep naturally nutty scent. Baobob Oil can also be used to treat nails, cuticles, lips and hair.
"We chose to offer this oil specifically because it is so special. It is a work horse of an oil," says Heshelow, "and quite exquisite."
Use Amazon code BAO50PRX this week for the launch.
ABOUT: Sublime Beauty NATURALS offers organic and pure products for wellness and skincare. The company motto is Make Healthy Choices, Respect Your Body, Love Nature.