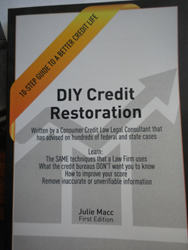 Save Hundreds of Dollars and Countless Hours by Repairing Your Own Credit
(PRWEB) July 07, 2015
Repairing 'broken' credit and the negative effects of Identity Theft can cost you thousands of dollars and countless hours. Julie Macc, a Certified Credit Reporting, Credit Repair and Identity Theft Specialist, author, lecturer and acclaimed expert legal witness on credit issues involving both consumer and business, today announced the release of her two self-help books that will show you how to repair and restore your own credit, provide tips for raising your FICO scores and address issues pre and post identity theft.
DIY Credit Restoration: 10-Step Guide to a Better Credit Life 2015 by Julie Macc and the companion booklet, 10 Days to FIX Identity Theft: The First Book on How to Fix a Consumer Credit Report in 10 days, While Saving Hundreds of Dollars and Hours provide an essential kit with step-by-step directions to help you restore your good name and save dollars and hours in the process.
DIY Credit Restoration promises to teach you the same techniques that a law firm uses for its clients, as well as things "the credit bureaus don't want you to know," and other expert tips, tricks and tools to improve your credit scores and remove inaccurate or unverifiable information that may be dragging down your credit scores. 85% of Americans have incorrect information on their credit reports, and many consumers are shocked when they uncover some of the unethical creditor tactics being used against them. DIY Credit Restoration gives you a step-by-step method to repair your credit and your good name without needing to hire expensive credit repair services.
10 Days to FIX Identity Theft not only offers direction on how to prevent identity theft, but it is the first booklet containing expert tips and tricks on how to fix some of the negative effects of today's most pervasive and fastest growing crime against millions of average American citizens. Learn how to prevent and repair the effects of identity theft, and learn where and how your identity may be stolen and used by criminals.
Both books are written in plain English, making them easy to read and follow. The books also contain expertly-written sample form letters and a step-by-step instruction guide, making them an easy-to-follow kit for repairing your credit score and overall good name while helping to prevent future "attacks." Julie Macc shares her expert tips and tricks learned over decades working on behalf clients correcting credit reporting and identity theft issues.
With more than 20 years of experience as an expert witness and consultant to the legal profession, Julie Macc has served as an expert witness in over 200 cases, working with law firms practicing consumer credit law in federal and state courts. She has served on cases involving lenders, banks, collection agencies, each of the three major credit bureaus and third-party credit furnishers. Julie Macc, is also a keynote speaker and author who has led hundreds of credit score training seminars and courses for mortgage, banking and real estate professionals, as well as courses for general consumer audiences.
Julie Macc was appointed to a seat on the National Women's Money Council Board of Directors and contributed to The Women's Money Guide to Budgeting, Spending & Saving Money, by Gina Robison-Billups and Contributors to Women's Money (available at Amazon.com). She will present on these topical subjects at Women's Money seminars http://www.womensmoney.org in Carson City, NV and in Las Vegas. Her books are available at http://www.juliemacc.com or via Amazon.com in paperback or Kindle®
About: Review, Feature, and Interview Opportunity
Julie Macc maintains offices at credit law firms in California and Nevada, and she operates JMacc Credit Consulting in Sparks, Nevada.
DIY Credit Restoration: ISBN# 978-1-4951-5696-0
10 Days to FIX Identity Theft: ISBN# 978-1-4951-5697-7
Books are available at http://www.juliemacc.com or at http://www.amazon.com/Credit-Restoration-Days-Identity-Theft/dp/1495156974/ref=sr_1_4?s=books&ie=UTF8&qid=1436134017&sr=1-4&keywords=julie+macc
FREE KINDLE and/or PDF or HARD COPY VERSION FOR MEDIA: Just send an email request to Julie(at)juliemacc(dot)com requesting format type.
Contact: Julie Macc, 1-775-544-6160 or 650-867-5936, Julie(at)JulieMacc(dot)com