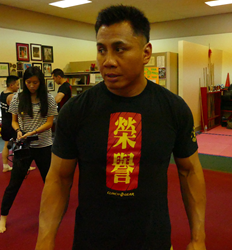 Current students were very excited to have had a training workshop with their Shi Xiong (older "Kung Fu" brother), who has a wonderful success story.
New Orleans (PRWEB) July 08, 2015
On June 28th, the worldwide known UFC fighter, Cung Le shared his unique San Shou/San Da fighting experience at the Shaolin Institute New Orleans campus with his junior Kung Fu brothers and sisters. Since leaving his Master Shi DeRu (Shawn X. Liu), Le has had many accomplishments, including a fighting career (former UFC middleweight and former Strikeforce MMA Middleweight Champion), teaching, acting, directing, and producing films.
Current students were very excited to have had a training workshop with their Shi Xiong (older "Kung Fu" brother), who has a wonderful success story. What some people may not know is that Cung Le, intrigued with San Shou, trained under Grandmaster Shi DeRu (also known as Shawn X. Liu or, to him, "Coach"). He called for information back in 1994, and DeRu "saw something in me," according to Cung, and took Cung under his wing and started his new student on grueling training sessions. It was that very year that Cung Le won the first US Open International Chinese Martial Arts Championship middle weight Kung Fu-San Shou division and the National Sanshou Championship to follow.
Cung Le started training at the intensive Shaolin Training camp, living there full time under Shi DeRu's direction to prepare for the World Wushu-San Shou championship. Since then, Cung Le has fought numerous fights in San Shou and MMA world and won many international and world professional champion titles. Having defeated two of the most well-known legendary UFC world champions, Frank Shamrock and Rich Franklin Le has become one of the most well-known and most resilient fighters in San Shou and MMA world. He is, according to the media, the fiercest legendary fighter from Asia today.
This world class fighter credits his San Shou/Sanda fighting training to Shi DeRu, who is considered to be the Shaolin Grandmaster and God Father of Kung Fu San Shou in the US. In Le's last interview before shooting the AMC TV martial arts series, "Into the Badlands," he commented, "I came to the US Open and moved to Alabama and trained in San Shou from Coach Shawn Liu. All my San Shou started from Shawn Liu (Shi DeRu)..."
For this workshop, participants experienced two hours of San Shou drills, including several different combinations of punches and kicks and also different takedowns. Participants ranged in varied skill levels with both female and male partakers.
One young lady, Vatsana Chanthala, said, "His instruction was very clear and concise. It was easy for me to follow with my partner." She went on to add, "He was a dynamic instructor who was able to give feedback to the group and individually. I enjoyed hearing his story about training under Shifu. He said that Shifu used 'old-school traditional Shaolin work' in his practice, which included 2000 kicks per leg on the heavy bags."
Another student, Rene Reed, also one of Shi DeRu's San Shou kickboxers, said, "I appreciated the pace we worked at. It was on a different level. What I really liked was how he improved things we already do by fine tuning and changing small things." Reed also liked what Cung Le called Chain Wrestling. He said, "Cung Le gave us a good foundation to work from in our wrestling as far as transition from one thing to the next."
Sunshine Hebert remarked how each student was able to follow his directions easily because he modeled his instruction. She said, "I like how he took the time to go to each pair and give feedback on what could be improved or what they were doing well already. It was a real confidence booster."She feels that everyone left having gained wonderful feedback and more knowledge about San Shou skills.
Another DeRu's kick-boxer who participated, Jeremy Joyce, agrees by saying, "It was obviously great to learn from such an experienced fighter. Great fundamentals! I like the clear-the-lane technique to the back fist and back kick." Cung Le is not only one of the greatest fighters in the world but an excellent teacher. It is indeed a great opportunity for anyone who is interested in Kung Fu self-defense, combat training or San Da to train with him (cungle.tv).
While Cung Le instructed students during the seminar, Shi DeRu was also present and watching the participants work. His pride in his student was evident in his smiles and nods. Before closing, he commended Cung Le on a job well done, complementing him on his precise instruction and skills in working with each participant. The Shaolin Institute hopes to extend another opportunity of this kind to its students in the future. For more information on Shaolin Institute or Sanda/Sanshou, visit http://www.shaolin-world.net