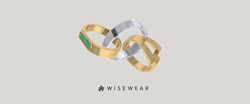 We designed each piece with one goal in mind: to make women feel their most confident on the inside and out.
SAN ANTONIO, Texas (PRWEB) July 07, 2015
WiseWear®, a wearable startup that specializes in integrating advanced sensing technologies into everyday items, recently launched their first line of luxury smart jewelry called the Socialite™ collection. The product line is available for pre-order today and is expected to ship this fall.
"The Socialite collection was crafted to inspire women to be safe, mindful of their health and wellness, and constantly connected to their loved ones," said Dr. Gerald Wilmink, founder and CEO of WiseWear. "We designed each piece with one goal in mind: to make women feel their most confident on the inside and out."
The line of accessories is different from competitors such as Ringly and Cuff in both form and function. The safety feature allows users to send a distress signal to the people they choose in any urgent situation. With a simple tap on the bracelet, users can send a discrete text message with their geolocation and activate the sound and recording on their phone to document their surroundings. The devices also connect to iOS and Android mobile phones via Bluetooth to provide detailed activity tracking and real-time mobile notifications, such as incoming calls, texts, emails, and calendar reminders.
The collection consists of three different bracelet designs so far, with names like the Calder™, the Duchess™, and the Kingston™. Each bracelet is made of a brass base and plated in precious metals such as 18-karat gold and true rhodium, offering water resistance and extreme durability. Such form is an innovation made possible through WiseWear's unique approach of sending radio frequency signals through metals, going beyond the standard plastic approach to wearable tech.
"Our patented technology makes it possible to work with such materials and truly is an industry breakthrough," said chief operating officer, Jason Wilson. "This innovation opens the door to a world of possibilities to create wearable tech in the form of impeccable jewelry pieces that people actually want to wear on their wrist."
The fashion forward design, integrated with state-of-the-art technology, creates a new breed of wearables that embody both beauty and brain.
"The Socialite collection is truly the first of its kind to fuse fashion, form, and function altogether into one sophisticated accessory," said Dr. Wilmink. "By creating wearables that are versatile and appealing in the aesthetic department, we hope to empower women to monitor their health and safety without sacrificing style. After all, wearable technology is only useful if individuals wear it."
The Socialite collection is now available for pre-orders, with each bracelet priced at $299.95, on http://www.wisewear.com.