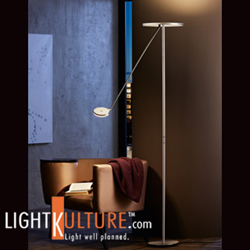 The 2, on board dimmer controls are thoughtfully located to enable simple dimming with one touch.
San Franscisco, CA (PRWEB) July 07, 2015
LightKulture.com a leading e-commerce supplier known for innovative contemporary LED lighting is pleased to offer the new Plano and Platz series by Holtkotter. "We are very excited to feature this refreshing new look in LED torchiere floor lamps from Holtkotter", noted Susan Inderbinen President of LightKulture.com. Holtkotter is known for well made high-output LED torchieres and other dimmable LED floor lamps for reading. Mr Holtkotter himself designed the first all-in-one ambient light of a torchiere, combined with an adjustable task lamp for reading, together in one space saving design. These new LED torchieres take that concept and turns it upside down. The original design concept featured a free standing uplight with an attached reading lamp at the base. The round Plano series, and the square companion Platz, offer an articulating 22" reading lamp that attaches from the bottom of the uplight. This new way of thinking allows for a greater range of motion for convenience in task lighting. It looks as smart as it performs.
Standing over 72" tall, the Platz and the Holtkotter Plano LED torchiere feature 4, 10 watt LED bulbs that deliver 40 watts of light, producing an impressive 4300 lumens. The 2700 Kelvin, 80+ CRI LED's are operated by a simple touch dimmer, conveniently located on the stem, controls the light level from 0-100%. The addition of a directional 5" round or square shade is attached to the bottom of the primary uplight on a 22" stem. Articulating downward, the 6 watts of dimmable task light is great for reading. This is a new interpretation on an original design patented by Holtkotter almost 50 years ago. Available in brushed aluminum or bronze, with a corresponding shaped base, the round Plano and square Platz both have clean, simple lines. This allows the collection to be used in many different styles of interior design. The coordinating Pegasus and Orion LED semi flush fixtures are available in brushed aluminum or white, pivot to articulate up to 135 degrees. This enables the 40 watts of LED light to shine in any number of dramatic angles. Pegasus and Orion can be controlled by a conventional wall dimmer.
For more information go to
Holtkotter - http://www.lightkulture.com/brands/Holtkotter.html
Holtkotter Introduces The New Plano LED Torchiere, Turning a Classic Upside Down, Now Available From LightKulture.com
"Just last week, my team and I traveled to the Dallas International Lighting Market to meet our suppliers and scout the halls for new design and technical innovations. We were not disappointed. While the summer market is known to be much smaller, we found many big ideas about to come to market. One of our favorite introductions comes from our friends at Holtkotter. Known as the ultimate lighting machines, Holtkotter has taken their very first collection and turned it upside down. The new Plano and Platz series offer a stylish combination of powerful uplighting, with a fully directional, dimmable reading floor lamp in the most unexpected way. We loved the fact that the 22" arm is now attached from the top shade, oriented downward. The 2, on board dimmer controls are thoughtfully located to enable simple dimming with one touch. The Plano and Platz torchieres also won the Dallas Market Choice Award for best new LED introduction. The German design and craftsmanship of Holtkotter means you are investing in the ultimate lighting machine that will provide years of trouble free service, and look good while doing so. We are pleased to be able to pre-sell these products for early Fall delivery", noted Susan.
About LightKulture.com
At LightKulture.com, our mission is to offer the finest energy efficient contemporary lighting and light fixtures from around the world. We have assembled an exciting collection of the industry's most innovative decorative and architectural lighting.We are proud to offer lighting solutions for both your home and work-life environments. Simplicity is design is complicated, function makes it last. Be inspired by our range of essential designs from well respected American and European manufacturers. In today's world, energy efficient lighting is as important as eco-friendly or green lighting fixtures, such as LED or CFL lighting. We offer the very best energy efficient lighting and light fixtures, both high value LED lighting fixtures and CFL lighting fixtures in modern and contemporary styles that provide quality, innovation and authenticity.
LightKulture
http://www.lightkulture.com/
Email. sales(at)lightkulture(dot)com
Tel. 941-330-0422