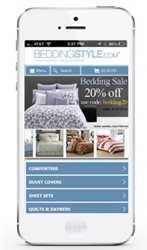 Each quarter we run these index reports and are just astounded by the growth we are seeing
Boston, MA (PRWEB) July 06, 2015
Across a broad same-store index of over 350 mobile commerce sites, year-over-year aggregate mobile revenue increased a very healthy 51.57%, in the second quarter of this year, as compared to the same quarterly period in 2014.
For context, according to HIS Global Insights, US retail ecommerce business grew just 14.5% in Q1 2015, as compared to the year previously.
Conversion rates bumped up again 12.06% as mobile sites are increasingly considered a safe and secure extension of the ecommerce experience, by consumers. The inclusion of Google Wallet and PayPal Express Checkout in the cart sections of many mobile commerce site builds are reducing the steps needed in the mobile checkout process, by auto-filling address information that can be more cumbersome to enter on mobile.
The average duration of each user session on mobile was down 21.85% in the quarter and the number of pages viewed per session also dropped 15.35%. These lower numbers indicate a faster and smoother path to purchase for consumers using mobile, and a stronger intent to buy.
The total number of quarterly transactions jumped a very healthy 66.11% and the total number of sessions increased slightly less (52.61%). The gap in these numbers means return customers are buying repeatedly on mobile.
The average order size was down slightly (8.70%) from $108.39 last year to $99.36 for the quarter this year.
"Each quarter we run these index reports and are just astounded by the growth we are seeing", said Srinivasarao Nandiwada, CTO and Co-Founder. "By having a dedicated mobile commerce site that is not simply a resized version of the ecommerce site, our retailers can market specific products to their mobile audience and tweak the mobile delivery for maximum return. When mobile is 30% of sales and over 50% of traffic, having the ability to treat mobile as a unique channel is very important".
About Unbound Commerce
With more mobile and tablet site deployments than any other solution provider, Unbound Commerce is the industry's #1 provider of dedicated mobile commerce solutions for mid-market online retailers. Unbound's unique, low-IT hybrid approach allows current ecommerce operations to be leveraged and extended into mobile commerce, tablet commerce, commerce-enabled apps, and in-store engagement. Unbound also equips each mobile site with marketing tools to help retailers and brands bridge online and offline consumer touch points, at point of sale. Unbound has built and deployed dedicated mobile and tablet sites for Equippers.com, Mattress Firm, Cali and York, Monster Cables, Bedding Style, Patrick James, Shoe Carnival, Rockport, Finish Line, FLOR, MillerCoors, Adam and Eve, The New England Patriots, Cavenders, and over 400 other retailers. For additional information, please visit http://www.UnboundCommerce.com.