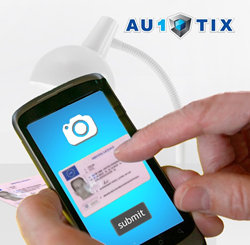 We looked at various solutions available on the market. But when putting them to test with real life traffic, choosing AU10TIX BOS was easy. The proof was in the pudding… BOS didn't take too long to flag an actual fraudulent ID image out of the haystack.
Nicosia, Cyprus (PRWEB) July 07, 2015
RateSetter, the UK's leading online Peer-to-Peer lending platform has implemented AU10TIX BOS to improve fraud protection and KYC compliance while streamlining customer experience and increasing effective volume handling capacity. AU10TIX BOS enables 100% automated, Click&Go multi-factor authentication of online submitted ID images. BOS carries out a complete process from auto-recognition, through content extraction, to multi-factor authentication in an average of 10 second – far outperforming any conventional solution.
John Battersby, Head of Communications at RateSetter said "RateSetter is the most trusted peer to peer lending platform for investors, reflecting how we protect our investors and lend responsibly to borrowers, while providing the best possible service. Customer ID verification is an essential part of our lending process so it is of the utmost importance that we use effective technology to enhance fraud protection while not impacting on our service speed. We are very pleased that AU10TIX BOS quickly proved to be a valuable asset in helping identify potential fraudulent applications".
"We congratulate RateSetter on joining our growing family of clients," says Ron Atzmon, Managing Director of AU10TIX. "We enjoy working with the RateSetter team, contributing our share to their success. RateSetter wants their customers to be better protected and to feel better served. That's the whole idea about AU10TIX BOS – it does both. RateSetter, like our other clients, will naturally benefit from the new capabilities and enhancement we have in our pipeline. Welcome onboard!"
"Catching actual fraud in a proof-of-concept is a great PR anecdote but also the strongest proof of concept, isn't it?" says Ofer Friedman, VP Marketing of AU10TIX. "But even beyond that, in a market covered by a battle haze of promises this is a hard proof that AU10TIX BOS actually delivers. And not for the first time. We need to get used to the idea that next generation technology can now outperform human examination. Not just in cost and speed but also in detection. BOS examines each and every image "at pixel level" and will always carry out its growing battery of checks on the 10,000th image as focused as it did on the first one. Thank you RateSetter for helping make this point."
About RateSetter
RateSetter is the UK's largest P2P lender having lent more than any other platform in 2014 (£293m) and to date in 2015 (c£240m). The platform offers a ground-breaking proposition that allows retail, institutional and corporate lenders to lend via an online platform at interest rates that they set. RateSetter pioneered the "Provision Fund" model that has since become a common feature of the industry. Its Fund is the largest (£14.9 million) and has ensured no lender has ever lost a penny since RateSetter launched in 2010, a unique feat amongst the major P2P platforms. In 2014, RateSetter became the first P2P lender to launch with a retail license in Australia. In November 2014 RateSetter was named the FT's Best Peer-to-Peer Lender. In March 2015 Rhydian Lewis was named FinTech Leader of the Year and in June, RateSetter was voted the UK's most trusted P2P platform for investors in the 2015 Moneywise awards. RateSetter is authorised and regulated by the Financial Conduct Authority.
For more information, please visit http://www.ratesetter.com/
About AU10TIX
AU10TIX Limited, a fully owned subsidiary of ICTS International N.V, deals with the authentication and digitization of identifying documents including Passports, identity cards, driving licenses and other complementary identifying documents. The company specializes in implementing hardware & software based applications used for scanning, identifying, content retrieval, authentication and validation of identifying documents. AU10TIX is a pioneer of all-channel (front-end and online) ID authentication and processing solutions. The company's products drastically reduce identifying document-based fraud, reducing the costs associated with client processing and enabling effective regulatory compliance, while making the sales and support operations speedier and considerably more efficient.
For more information, visit http://www.au10tix.com
About ICTS International N.V.
ICTS specializes in the development and implementation of innovative security concepts and solutions designed to meet the needs of a variety of industries, mainly aviation transportation, border control and sensitive facilities. ICTS International benefits from over two decades of expertise and international operational experience in transportation security, with a particular emphasis on high-risk environments, passenger processing transactions and the integration of security services to provide a comprehensive security solution. It also offers a wide variety of customized training programs, tailored procedures and a wide range of security consulting services. The company has developed and implemented unique technological solutions, based on its comprehensive approach to security, designed to enhance the level of security while accelerating the security check process.
For more information, visit http://www.icts-int.com
This press release contains "forward-looking statements" within the meaning of the Private Securities Litigation Reform Act of 1995, regarding the Company's business strategy and future plans of operations. Forward-looking statements involve known and unknown risks and uncertainties, both general and specific to the matters discussed in this press release. These and other important factors, including those mentioned in various Securities and Exchange Commission filings made periodically by the Company, may cause the Company's actual results and performance to differ materially from the future results and performance expressed in or implied by such forward-looking statements. The forward-looking statements contained in this press release speak only as of the date hereof and the Company expressly disclaims any obligation to provide public updates, revisions or amendments to any forward-looking statements made herein to reflect changes in the Company's expectations or future events.
Contact:
RateSetter
John Battersby, Head of Communications
Email: john.battersby(at)ratesetter(dot)com
Tel.: +44 (20) 3735 7343
AU10TIX
Ofer Friedman, VP Marketing
Email: ofer.friedman(at)au10tix(dot)com
Tel.: +357 (22) 007698
ICTS International NV
Alon Raich
Email: mail(at)ictsinternational(dot)com
Tel.: +31-20-716 3421