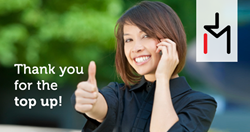 Very easy to top up a family member's phone. Also good to be able to use paypal to pay. (Erika Edwards on Trustpilot.com)
Atlanta, Georgia (PRWEB) July 08, 2015
Findings of the most recent in-house study of MobileRecharge.com show that Hispanic and African expats are more generous than other ethnic groups when it comes to international top ups. More specifically, sending mobile credit to their native countries using MobileRecharge.com is more popular among Latinos and Africans these days.
MobileRecharge.com is not the only company interested in people's generosity level. The 2013 World Giving Index states the world became a more generous place than the previous year. The average percentage of people donating money, volunteering time and helping strangers all grew, despite a fall in the rate of growth of the global economy. Fortunately, MobileRecharge.com reports show the same conclusion.
The conclusions of the study conducted by MobileRecharge.com are, of course, contextual and were not meant to set standards of any kind. Instead they gave us details on which ethnic group was more generous in the last months and which are some consumption patterns specific to MobileRecharge.com fans. In other words, which larger group stands out for supporting friends and family back home and why. The study took into account only expats who use MobileRecharge.com or the MobileRecharge app.
The brief report run by MobileRecharge.com pointed out that international top ups are most popular with the following 10 ethnic groups:
#1 Dominicans
#2 Mexicans
#3 Nepali
#4 Salvadorans
#5 Cubans
#6 Nigerians
#7 Hondurans
#8 Guatemalans
#9 Jamaicans
#10 Ghanaians
All these ethnic groups make regular refills ranging from $5 to $70. On review websites like Trustpilot.com, many point out that one of the reasons they make constant top ups is that top ups are easy to make and that reach their destination instantly. What makes MobileRecharge.com popular according to fans' reviews is having all major operators hubbed in one single place. Why is this worth to mention? Mainly because it is not such a common thing to use one account only to refill mobiles pertaining to different operators in different countries.
Which networks are most popular with expats? In other words, which networks do expats send mobile recharges to? If we are to start with these top 10 listed countries, the operators most refilled are: Telcel, Movistar, Unefon, Iusacell, Nextel, Ncell, Nepal Telecom, UTL, Tigo, Movistar, Claro, Digicel, Cubacel, MTN, Airtel, Glo, Etisalat, Visafon, Digicel, Lime, MTN, Vodafone, Airtel, Tigo, Glo, Expresso.
First, it's more or less a new thing that top ups work for expats as an alternative to money transfers or other transfer of goods. They are instant and easy to send. More precisely, they are means to support family and friends in their motherland.
Secondly, mobile refills are ideal as last minute gifts. On MobileRecharge.com it takes less than 1 minute to fill in this form and recharge a mobile instantly: https://mobilerecharge.com/buy/mobile_recharge
Thirdly, customer can top up their own mobile when traveling or living in some other place for a limited period. Joan Alaniz gives more details about her own experience on Trustpilot.com, a popular review website: "Les regalo cinco Estrellas, todo funciona de maravilla cuando viajo para México de allí relleno mi teléfono Movistar y mi cuenta Telcel para poder navegar el internet cuando vayamos a México, si no fuera por ustedes no se que hubiera hecho."
One reason that may also explain the "generosity" factor of these expat groups on MobileRecharge.com may be the numerous promotions, coupons and regular offers. Top up bonuses amount to 700% free extra credit for different destinations and operators. Every day, more than 10 special offers run on the website page called Promotions: https://mobilerecharge.com/promotions
Weekly promotions run for top ups to: Mexico, El Salvador, Honduras and Guatemala. And regular promotions are advertised for Ghana, Nigeria, Jamaica, Cuba and Nepal.
The report on most common top up destinations generated a blog article grounded in pure curiosity rather than speculation. You can find the entire blog article here: http://blog.mobilerecharge.com/news/top-10-most-generous-nations-on-mobilerecharge-com/.
The economical factor also plays a major role in the use of top ups from country to country. When immigration takes place, we witness the separation between "those who stay" and "those who leave." Developing countries are the main sources of immigration due to the economical and social needs.
One thing is sure: generosity is a yes to life. And what the empiric study on MobileRecharge.com proves is that expats from these countries are the most emotionally and physically connected to their families due to the cultural and economical background. They are also very adaptable and open to new technology and ways to transfer goods online. MobileRecharge.com has been conceived from the start to meet such specific needs.
Every 2 minutes a new customer joins MobileRecharge.com. Plus, on review websites such as Trustpilot, it is highly favored above other similar services for the following strong point:
-Fast top up
-Easy to use service
-100% safe transactions
-Paypal accepted besides all major cards, no matter the currency or country of the sender
-No contract needed
-Daily promotions always running on the website's "Promotions" page, in the MobileRecharge app or the social media channels (Facebook, Google+, and Twitter)
-Website available in several languages: English, Spanish, German, French, Italian
-Customer Support in several languages, including English and Spanish; responsive and supportive team
-Free-to-install MobileRecharge app for Android or iOS
-Contests & offers on the Facebook page: https://www.facebook.com/MobileRecharge.Fan?fref=ts
-Frequent Twitter promotions and various expat life related updates
-Clear tutorials on YouTube: http://www.youtube.com/c/MobileRecharge
MobileRecharge.com responds actively to feedback from top up users worldwide. New operators will soon be added as a result. The telecom specialists in the MobileRecharge.com team are constantly working on expanding the service.
About MobileRecharge.com
MobileRecharge.com is an interactive website designed by KeepCalling, a global telecommunications company registered in 2002 in USA. Presently, KeepCalling provides its services to hundreds of thousands of consumers and businesses, with a focus on customer satisfaction. KeepCalling has been listed by Inc 5000 in top 20 telecom companies in the USA for the last 4 years. In 2014 the company was designated the 18th fastest growing company in the telecommunications industry in USA with a revenue increase of over 600% from 2010 to 2013.