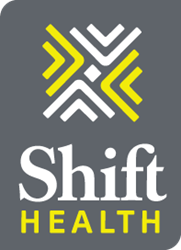 "Shift Health advances convergent solutions that shift thinking and deliver results for healthcare and life sciences organizations worldwide." - Dr. Ryan Wiley, President, Shift Health
Toronto, Ontario (PRWEB) July 08, 2015
Healthcare strategy consulting firm SHI Consulting has launched a new identity, rebranding as Shift Health.
"Our new name and identity better reflect our aspiration to create a positive and lasting impact on human health and wellbeing. Working with leaders across the HealthSphere—government, academia, industry, the not-for-profit sector and care providers—Shift Health advances convergent solutions that shift thinking and deliver results for healthcare and life sciences organizations worldwide," said Shift Health President Dr. Ryan Wiley.
The announcement marks the creation of an iconic brand in the healthcare and life sciences consulting arena—a brand anchored in SHI's reputation for incisive strategy and accountability to results.
"Shift Health is distinguished by our focused expertise and global track record in HealthSphere strategy and implementation, helping clients amplify healthcare and research leadership, advance global health innovation and achieve health market eminence. Through our specialized team of professionals, we deliver the depth of a large firm in a nimble, responsive format," said Dr. Wiley.
"SHI's team, philosophy and unrelenting commitment to excellence remain the hallmarks of Shift Health," said Borys Chabursky, who started the company and has served as its President since 1999.
With the new brand identity, Dr. Wiley has been appointed President of the firm. Mr. Chabursky will continue as Founder and Chair.
"Since joining our firm over a decade ago, Ryan has led some of our most transformative client initiatives and has put us on the map in markets worldwide. He has done an incredible job of cultivating a team of curious, self-motivated, intellectually nimble professionals who are passionate about our philosophy, live our values and are dedicated to advancing health. Under Ryan's leadership, Shift Health will enrich clients with insight, innovation and impact," said Mr. Chabursky.
About Shift Health
Shift Health is a healthcare strategy consulting firm devoted exclusively to the HealthSphere, delivering convergent solutions anchored in accountability to results, a commitment to excellence and an aspiration to improve human health and wellbeing. Shift Health works globally with governments, academia, healthcare providers, the not-for-profit sector and care providers to amplify healthcare and research leadership, advance global health innovation and achieve eminence in healthcare markets worldwide. Learn more at http://www.shifthealth.com. Visit Shift Health on LinkedIn at https://www.linkedin.com/company/shifthealth.