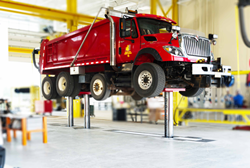 Jefferson County's highest concerns are safety, durability, and versatility. Stertil-Koni is the lifting company that meets all of these needs.
Stevensville, MD (PRWEB) July 07, 2015
Vehicle lift leader Stertil-Koni today announced that the Jefferson County Highway Department, located in Jefferson, Wisconsin, has selected three of the company's heavy duty vehicle lifting systems for its new, 83,500 square foot maintenance facility.
Located midway between Madison and Milwaukee, the Jefferson County Highway Maintenance Facility is the hub for its fleet of vehicles which in turn are dedicated to upgrading, repairing, and maintaining nearly 400 lane-miles of state highways, more than 500 lane-miles of county highways, and various town highways. The department services a fleet of 40 plow trucks and related vehicles, including utility trucks and small-load dump trucks.
Helping to make it all happen was Midwest Equipment Specialists, Inc., a Stertil-Koni distributor specializing in heavy duty transit, bus, and trucking facilities. Midwest Equipment Specialists, Inc. sold the lifts and managed the installation process.
The Jefferson County Highway Department recently held an open house for its employees and patrons on Tuesday, June 9, 2015, where it unveiled new equipment, including the three state-of-the-art Stertil-Koni heavy duty lifting systems. Present was Larry Beyler, president of Midwest Equipment Specialists, Inc., who stated that Jefferson County's demand for heavy-duty lifting equipment was distinct and necessary. Explained Beyler, "The role of the Jefferson County Highway Department is to ensure that the state, county, and local roads are safe for the population and for visitors to Jefferson County. They simply cannot adequately perform their job unless the vehicles that service these roads are kept in top shape."
Continued Beyler, "In determining which lifts to purchase, Jefferson County's highest concerns were safety, durability, and versatility. Stertil-Koni was the lifting company that met all of these needs."
For its facility, the Jefferson County Highway Department selected the Stertil-Koni DIAMOND LIFT 96, the Stertil-Koni FREEDOM LIFT, and six Stertil-Koni EARTHLIFTs, which feature wireless technology and the company's new ebright Smart Control System.
The DIAMOND LIFT 96 is a high-pressure, telescopic in-ground piston lift with a capacity of 96,000 lbs. in a three-piston configuration. The DIAMOND LIFT was created with the environment in mind, ensuring that hydraulic fluid always remains fully contained and above ground – in a free-standing console that is easily accessible. Additionally, the DIAMOND LIFT enables wheels-free access, making it an ideal choice for routine maintenance, such as servicing brake systems.
The facility also installed the Stertil-Koni FREEDOM LIFT, which is aptly named because it gives mechanics the freedom to lift all types of heavy duty work trucks and pickups. The telescopic support arms allow the 2-post lift to be quickly and easily adjusted. The FREEDOM LIFT features lifting capacities ranging from 16,000-30,000 lbs., higher than its historical counterparts that typically top out with a lifting capacity in the 12,000-15,000 lb. range. The FREEDOM LIFT does not use any types of chains, slacks, or cables, promoting a clean and tidy workspace around the lift and accompanying vehicle.
The third lifting system installed at Jefferson County is the Stertil-Koni EARTHLIFT, a battery-powered mobile column lift with a capacity of either 18,500 lbs. or 22,000 lbs. (depending on the model). It is comprised of 98% recyclable materials and has an Active Energy Retrieval System (AERS) which enables operators to realize 45 to 50 lifting cycles without recharging. Jefferson County received the most recent version of EARTHLIFT, which features the new ebright Smart Control System, a full-color touch screen control console engineered to provide intuitive, ease-of-use with maximum visual information about the lifting process – all at the fingertips of the technician. The extra-long adjustable pick-up forks make the EARTHLIFT well suited to safely raise all types of vehicles, including those with super single tires. What's more, the EARTHLIFT is truly mobile, and can easily be wheeled around the shop floor to accommodate a diverse set of needs in the Jefferson County facility.
As Beyler explained, "Midwest Equipment Specialists, Inc. is the exclusive dealer for Stertil-Koni for the state of Wisconsin, and we are honored to partner with the Jefferson County Highway Department. We believe they have chosen the optimal lifts for the service and maintenance requirements of their diverse fleet."
Concluded Stertil-Koni president, Dr. Jean DellAmore, "We exclusively specialize in heavy duty lifting, and it is extremely gratifying to see how our lifts can support a public entity such as the Jefferson County Highway Department in terms of streamlining their maintenance operations while ensuring the highest levels of safety and durability."
About Stertil-Koni
Stertil-Koni, a brand of the Stertil Group, is the global market leader in heavy duty vehicle lifts –bus lifts and truck lifts– and is the preferred supplier to the world's leading companies in the truck and bus industries. Stertil-Koni's breadth of products meets all ranges of lifting needs and includes mobile lifts, two-post, four-post, in-ground piston lifts, parallelogram lifts, half-scissors and its innovative axle-engaging, in-ground, scissor lift configuration, ECOLIFT. Stertil-Koni is also now installing DIAMOND LIFT across North America, a full rise telescopic piston lift designed to set new standards in precision heavy duty lifting. Stertil-Koni USA is headquartered in Stevensville, Maryland. Stertil-Koni has production facilities in Europe in The Netherlands, and in the USA in Streator, Illinois.