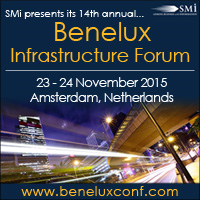 Amsterdam, Netherlands (PRWEB UK) 7 July 2015
The European Commission's investment plan for Europe is more commonly known as the Juncker plan and it aims to unlock public, private investment to foster economic growth within the Member States (European Commission, 2015)
Dominik Zunt, DG Economic and Financial Affairs, Finance, Coordination with the EIB Group at the European Commission, will be giving an opening address at SMi's 14th Annual Benelux Infrastructure Forum, taking place on 23-24 November 2015 in Amsterdam, Netherlands.
His talk will observe the financing plan for Europe and how it hopes to mobilise 315bn EUR in investment in the EU over three years. He will do this by reviewing how the EFSI will be deployed by the European Investment Bank and the European Investment Fund in order to encourage more private and public investment and more risk taking from private investors. In order to give a comprehensive look at this he will also cover the two important strands of the Investment Plan:
1) The European Investment Advisory Hub: A technical assistance one-stop shop for market participants
2) The European Investment Project Portal: A publicly accessible webpage making project information easily available to investors
Through a series of exciting case studies, presentations and panel discussions this year's conference will allow unrivalled networking allowing for a gathering of the industry's infrastructure developers, investors, financiers & government agencies as they discuss and debate latest developments in the Benelux region.
KEY BENEFITS OF ATTENDING:
This year's conference will look at new pipeline opportunities in areas including:

Evaluating mechanisms to procure infrastructure projects
Project bonds – what is happening and what does the future hold?
Reviewing smaller PPP projects and what lessons can be learned from them
Developments in public transport and funding for these projects
Project life cycle, value for money and risk management…what you need to know!
THE EXCELLENT SPEAKER LINE-UP INCLUDES:

Frank Schramm, Co-CEO, BBGI S.A.
Dominik Zunt, DG Economic and Financial Affairs (ECFIN), coordination with EIB Group, EBRD and IFIs, Financing of Climate Change, Infrastructure Policies and Euratom (ECFIN L3), European Commission
Han Claessens, Senior Investment Manager, PGGM Investments
Jeroen Kies, Assistant General Manager, Structured Finance Department, Sumitomo Mitsui Banking Corporation Europe
Rob Peters, Finance Manager, Rijkswaterstaat, Dutch Ministry of Infrastructure and the Environment
Willem Stitselaar, Managing Director, Macquarie Capital
Jan Willem Van Roggen, Managing Director, NIBC Bank
Francois Yves Gaudeul, Director, Infrastructure Debt, Allianz Global Investors
Benoît Theys, Real Estate & PPP Finance Manager, AG Real Estate
Johan Mouraux, Partner, DLA Piper
Prof. Dr. Chris Zevenbergen, Strategic Advisor Of The Executive Board, Chair Flood Resilience Group UNESCO-IHE, Dura Vermeer Group NV, UNESCO-IHE and TuDelf
Joris van Papenrecht, Commercial Director, BAM PPP The Netherlands and Belgium
Ian Conlon, Financial Instruments Team, Unit B4, DG MOVE, European Commission
Roeland van der Zee, Senior Consultant, Aon Global Risk Consulting
Karel Joos, Partner, Interel
Bernward Kulle, Executive Board Member, ÖPP Deutschland AG
For more information please visit http://www.smi-online.co.uk/2015beneluxconf1.asp
Alternatively, please contact Andrew Gibbons on +44 (0) 207 827 6156 or agibbons(at)smi-online(dot)co.uk