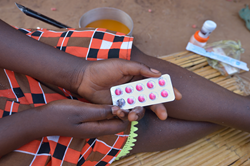 New York, NY (PRWEB) July 06, 2015
Invitation to Cover:
Most African people receive their health care from nurses or midwives, yet there is a large gap between the unmet health priorities in the region and the kind of clinical nursing and midwifery research required to improve health outcomes and reduce unnecessary or ineffective treatments or procedures.
This milestone conference, sponsored by Columbia University School of Nursing and the Columbia Global Centers | Africa (Nairobi), in collaboration with nursing and midwifery experts from Kenya, Malawi and South Africa, brings together for the first time nurse and midwifery leaders from 13 sub-Saharan African nations with the goal of creating an action plan that identifies knowledge gaps in clinical care and greater use of scientifically-informed health care practices.
In addition, new research findings presented at the meeting will identify critical health care gaps and priorities that are currently not sufficiently addressed by national or regional health care research agendas.
What: "Setting Research Priorities for a Healthier Africa: Nursing and Midwifery Clinical Research in Southern and Eastern Africa."
Where: Columbia Global Centers| Africa (Nairobi),Westlands, Mvuli Road off Waiyaki Way (opposite Mvuli Park) Nairobi, Kenya
When: Wednesday and Thursday, July 8-9, 2015
Who:
Susan Agunda Otieno, Director of Nursing Services, Ministry of Health, Kenya
Edna Chemutai Tallam, Registrar, Nursing Council of Kenya
Magda Awases, Adviser, World Health Organization Regional Office for Africa
Elaine Larson, PhD, Associate Dean for Research, Columbia University School of Nursing
Media contacts:
In Africa: Rosemary Nzuki, Regional Communications Specialist
Columbia Global Center| Africa
rnzuki(at)cgcafrica.org (link sends e-mail)
In US:
Marc Kaplan, Associate Dean, Marketing and Strategic Communications
Columbia University School of Nursing
Ph: (212) 305-3282 (o); (646) 244-2169 (c); email: MK3483(at)Columbia.edu (link sends e-mail)