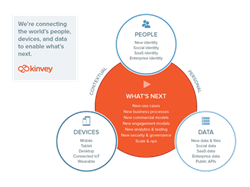 "Our commitment to delivering advanced mBaaS capabilities that no other vendor provides is a testament to our continued leadership in this space," said Sravish Sridhar, founder and CEO of Kinvey.
Boston, MA (PRWEB) July 07, 2015
Kinvey, Inc., today announced its leading enterprise mobile Backend as a Service platform has been awarded patent #9047308 for providing unified access to various data resources using virtualized services.
As enterprises undertake digital transformation, the development of mobile applications is a complex challenge. Against the backdrop of fragmented or legacy Web technology, businesses need a comprehensive mobility platform that supports bimodal IT and compliance, while enabling flexibility and value-generation for the organization. This patent is based on Kinvey's recognition of the pressures facing customers and the technological innovations created by Kinvey to:

Access data across form factors: With Kinvey's technology, applications that live in a fragmented landscape of form-factors and operating systems can still access data in a normalized manner.
Enable connections to legacy systems: Give an application access to legacy enterprise systems, SaaS services, etc., all of which may require the data to reside in various data formats and communicate via different access protocols.
Support contextualization: Allow data to take into account various contextual and personalized factors, such as a user's identity, their preferences, their location, device, and the last known state of the application during last use, either on the same device or a different device.
Allow data syncing: Ensure application data syncs back to the system of record without conflicts, despite users generating new data or editing data offline.
"Kinvey started with a simple vision to connect the world's people, devices, and data to enable what's next – and inventing mobile Backend as a Service in 2011 was a logical outcome of our vision. This patent is for one of many technology innovations we have enabled in our platform, and we have more coming," said Sravish Sridhar, founder and CEO, Kinvey. "Our customers rely on us to be the most comprehensive, secure, and flexible platform available to help them deliver 5-star quality applications. Our commitment to delivering advanced mBaaS capabilities that no other vendor provides is a testament to our continued leadership in this space."
In the last several weeks, companies like Oracle, IBM, and Red Hat have thrown their hats in the mBaaS space, announcing first versions of their mobile platforms. The capabilities they have announced are features that mature mBaaS platforms like Kinvey have had for 3-4 years. "With our proven - and now patented - technology innovation and continued enhancements, these new entrant giants have a high hurdle to overcome to show technology parity or differentiation," continued Sravish.
About Kinvey
Kinvey is the leading enterprise mobile Backend as a Service (mBaaS) platform that helps enterprises, agencies, and developers launch successful and engaging apps. Kinvey provides comprehensive support for native, hybrid, and mobile Web applications and out of the box enterprise capabilities including identity management, integration with enterprise data sources and a data store and file store for new mobile data, ability to run customized business logic, and a rich set of mobile engagement services. Kinvey runs in a multi-tenant cloud or in a dedicated public or private cloud. On average, Kinvey customers launch applications twice as fast and at half the cost of traditional methods. For more information, visit http://www.kinvey.com.