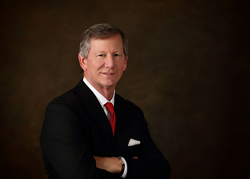 Orlando, FL (PRWEB) July 07, 2015
Allen F. Anderson, MD of the Tennessee Orthopaedic Alliance will be installed as the 44th president of the American Orthopaedic Society for Sports Medicine (AOSSM) on Saturday, July 11th, 2015, during the Society's Annual Meeting in Orlando, FL.
Dr. Anderson is a 1976 graduate of the University of Tennessee, College of Medicine and completed his residency in orthopaedics at Vanderbilt University. Dr. Anderson is a specialist in sports medicine with a keen interest in knee injury and ligament reconstruction.
Dr. Anderson has had more than 91 scientific articles published in sports medicine books and various sports medicine journals. He has also had 21 scientific exhibits at national and international orthopaedic meetings and made numerous national/international presentations and 53 instructional course lectures.
In recognition for his commitment to sports medicine, Dr. Anderson was asked to be a visiting professor at the Universities of Vermont and Cincinnati. He was appointed Associate Editor of the American Journal of Sports Medicine, and The Orthopaedic Journal of Sports Medicine. He is a member of the AOSSM Medical Publishing Board of Trustees and Board of Directors and has previously served on the Board of Directors of the Canby Robinson Society at Vanderbilt University and the Board of Directors of the International Cartilage Repair Society. Dr. Anderson is chairman of the International Knee Documentation Committee, which sets standards for orthopaedic surgeons around the world to use to evaluate the results of treatment.
He is also a chairman of AOSSM's Research Scientific Advisory Committee, which assists sports medicine physicians in conducting scientific research in the United States. He served as a member of the Executive Committee of the Herodicus Society from 2013-2014 and was elected to the Board of Directors of the International Society of Arthroscopy, Knee Surgery and Orthopedic Sports Medicine (ISAKOS) in 2015. In addition, he served as the "Godfather" for the AOSSM/APKASS Traveling Fellowship to the Pacific Rim in 2013.
In addition, Dr. Anderson has received numerous awards, including:

Health Care Hero, Nashville Business Journal (2010)
America's Top Orthopaedists (11 consecutive years by the Consumer's Research Council of America
Best Doctors in America
Patient's Choice Recognition Award
AJSM Hughston Award for Outstanding Paper (2002)
AOSSM O'Donoghue Sports Injury Research Award for Most Outstanding Clinical Research in Sports Medicine (2014)
Outside the work setting, Dr. Anderson enjoys spending time with his wife, Candy, and three sons, Brian, David and Chris. He also enjoys fly fishing and upland bird hunting.
###
The American Orthopaedic Society for Sports Medicine (AOSSM) is a world leader in sports medicine education, research, communication and fellowship, and includes national and international orthopaedic sports medicine leaders. The Society works closely with many other sports medicine specialists, including athletic trainers, physical therapists, family physicians, and others to improve the identification, prevention, treatment, and rehabilitation of sports injuries. AOSSM is also a founding partner of the STOP Sports Injuries campaign to prevent overuse and traumatic injuries in kids. For more information on AOSSM or the STOP Sports Injuries campaign, visit http://www.sportsmed.org or http://www.stopsportsinjuries.org