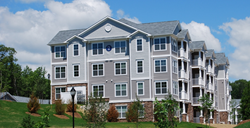 (PRWEB) July 08, 2015
The Sound at Gateway Commons, owned and managed by KGI Properties, brings much needed multifamily housing to East Lyme, Connecticut, with 280 workforce rate apartments in ten buildings clustered community style and set into wooded green space. Following the National Green Building Standard under the Green Multifamily Building Certification program and CT Residential New Construction program for energy efficiency, Steven Winter Associates, Inc. (SWA) successfully guided five completed buildings to NGBS Gold certification and significant energy savings. The same distinguished level of certification is anticipated for the remaining five buildings still undergoing construction.
"We began the construction process with energy efficiency as a top goal and were pleased to be guided through the process by the knowledgeable team at Steven Winter Associates," said David Yetton, Director of Development at KGI Properties. "Being unfamiliar with NGBS, we were more tentative to embrace a third-party certification program, but ultimately found the program aligned well with our sustainability goals and was fairly easy to navigate with our SWA verifier. We're thrilled to have received NGBS Gold Certification for the first group of buildings."
The complex's comprehensive sustainable design is visible both indoors and on the property grounds. Native, drought tolerant landscaping and a thorough storm water management plan were implemented for long-term water conservation and management. To meet the heating and domestic hot water demands for the residences, building design utilizes a high-efficiency natural gas fueled tank-less boiler. Ductwork for heating and cooling distribution met rigorous tightness testing requirements to ensure a quiet, efficient, and comfortable experience for tenants.
Tenants enjoy the serene natural setting while saving an estimated 40% in utility costs. By utilizing third-party verification through construction, KGI Properties is able to ensure that resource efficiency and durability goals for the project are met, buildings are performing optimally, and financial incentives are maximized to help offset building costs.
About Steven Winter Associates, Inc.
Steven Winter Associates, Inc. (SWA) provides research, consulting and advisory services to improve commercial, residential and multifamily built environments for private and public sector clients. The firm specializes in energy, sustainability and accessibility consulting as well as certification, research & development and compliance services. SWA's engineers and architects have led the way since 1972 in the development of best practices to achieve high performance buildings. For more information, visit http://www.swinter.com.