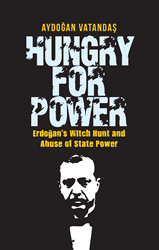 Erdogan suddenly veered the party off the "train to democracy."
Clifton, NJ (PRWEB) July 07, 2015
When the AKP, led by the charismatic Recep Tayyip Erdogan, came to power in 2002, they embarked on a process of democratization that advanced human rights and led to an economic boom. The AKP's rule brought Turkey international recognition, moved it closer than ever to the European Union, and pushed the military out of political life and back into the barracks. Turkey was proving that Islam and democracy could function together.
However, according to Aydogan Vatandas in his new book Hungry for Power, after a landslide election victory in 2011, something changed. Erdogan suddenly veered the party off the "train to democracy." The AKP began pursuing Erdogan's politics of personal retribution. This has led to four years of witch hunts, leading to massive crack downs on the free press and internet, as well as serious new limitations on human rights and democracy. While stifling public demonstrations, the government attempted to re-draft the judiciary and police in its own image. They attempted to achieve these ends through a deliberate polarization of society which has been furthered by hate speech and personal demonization. Though all segments of society have suffered, none has suffered more than Hizmet, a civic group dedicated to human rights, education, and democracy. The demonization of such a group sends the same message to everyone: you are not safe. A country that had been a burgeoning democracy now resembles a growing police state.
This series of articles by Aydoğan Vatandas sheds light on Erdogan's transition from Muslim democrat to authoritarian leader, analyzing events as they happened. They present a variety of perspectives on Turkey's unique position in the Middle East, its relationship with the USA, Erdogan's extreme reactions to any form of opposition, and his escalating authoritarianism and witch hunts. Hungry for Power is an ideal introduction to the last decade of Turkish politics.
About the Author: Aydogan Vatandas is a journalist based in New York, specializing in media, international politics and political psychology. He has published books about a range of topics, many of which have become bestsellers in Turkey. Since 2006, he has been working in New York as the representative for Cihan News Agency and correspondent for Todays Zaman Daily where he wrote his dozens of articles on Turkish and Middle East politics. He holds an M.A in Media Studies from The New School in NY.
Title: Hungry for Power: Erdogan's Witch Hunt and Abuse of State Power by Aydoğan Vatandas
9781935295778, 6 x 9 inches, 188 pages, $14.95, June, 2015
Distributed By: NBN - National Book Network