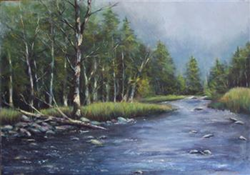 (PRWEB) July 07, 2015
Every month, American Frame, a web-based custom framing and art printing company, sponsors a contest for artists who sell and display work through American Frame's online Art Gallery. Winners are selected by customer votes on Facebook and receive a cash award and promotion through American Frame. This month's winner is painter Deborah Angilletta.
A graphic designer and communications specialist for many years, Angilletta now paints full time, concentrating on acrylic-rendered landscapes, primarily around her home in upper New York State. Self taught in both acrylic and oil, she is inspired by the memory of her grandparents' farm and by the ways the physical world conjures these joyful memories: a sparkle of light across a field, the solitude of a country road, the melancholy beauty of a winter sky fading to twilight. Her work suggests a timelessness and sense of place that she hopes will resonate with others.
"The ice-blue water breathes her last cool winter breath into the atmosphere. An air of expectation surrounds the woods. The wind rustles a warning that something is on the way." This is how Angilletta describes the winning painting, a scene from the Adirondack mountains titled, "Putnam Creek, Early Spring." Acrylic on RayMar panel, the sylvan scene makes it a natural for a gray wood frame from American Frame's Rustics collection. In a more traditional or contemporary space, a black frame in either metal or wood, paired with a natural mat, would introduce a modern vibe and compliment the blue tones.
To contact Angilleta or follow her work, visit her American Frame gallery or her own website at http://www.deborahangilletta.com.
About American Frame
American Frame provides professional-quality DIY custom picture framing supplies and fine art printing services at wholesale prices direct to the consumer. Its easy web interface allows customers to design a custom frame treatment for assembly in the comfort of their homes or studios. They can also upload a digital image to be printed on canvas or fine art paper and receive framed work ready to hang. All orders are handcrafted in Maumee OH and shipped within 2 business days. Family owned and operated since 1973. Love your art. Frame it right.™