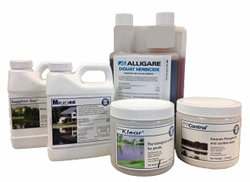 We are dedicated to helping customers enjoy their ponds and water gardens, no matter the size.
Rogers, MN (PRWEB) July 08, 2015
Lake Restoration Inc., a pond and lake weed control company located in Rogers, MN, announced today that it has launched a new PONDRestore® Kit. The PONDRestore® 1000 controls floating and submerged weeds and eliminates algae. In addition, the PR1000 kit reduced nutrients and promotes the pond's health. Its convenient size allows for multiple treatments in smaller ponds, water gardens, and water fixtures.
"We are excited about the PONDRestore® 1000 Kit," says Mary Jo Furman, Retail Sales Supervisor of Lake Restoration. "We are dedicated to helping customers enjoy their ponds and water gardens, no matter the size. It is important to us that we cater to our customer's needs and we recognized that this would help customers with smaller treatment areas. We want everyone to be able to enjoy their ponds to the fullest."
The PONDRestore® 1000 Kit includes several pond chemicals that benefit the treatment area in a variety of ways. The Diquat herbicide and Mizzen® algaecide control weeds and algae. Additional products restore the pond's health by reducing nutrients that enable weeds to grow. The Sapphire Bay® pond dye adds a beautiful blue color to ponds, fountains, and other water features.
Lake Restoration's PONDRestore® 1000 Kit helps treat smaller areas with duck weed, submerged weeds, different types of pond algae, and promotes the overall health of the pond. It is also available in an all liquid kit that is great for use in the TORMADA™ pond sprayer. For more information on any of their PONDRestore® Kits or their other products, visit their website at LakeRestoration.com.
About Lake Restoration
Lake Restoration, located in Rogers, MN, has been restoring the beauty of lakes and ponds since 1977. Every year thousands of satisfied customers use Lake Restoration products to keep their ponds, lakes, and other water features in pristine condition. Lake Restoration offers a complete line of exclusive, simple, do-it-yourself solutions to treat a variety of pond weed maladies. To learn more about controlling pond and lake weeds and the products and services to accomplish this, visit LakeRestoration.com.