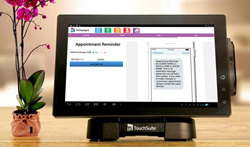 By introducing texting as an automated function within our POS solutions, we're providing SMB retailers with the most efficient communication capabilities they need to reach customer and compete with the advanced marketing tools of big-budget competitors.
Boca Raton, Florida (PRWEB) July 07, 2015
Leading U.S. technology company, TouchSuite, has integrated yet another innovative marketing solution within its cutting edge point of sale solution, The Firefly, with the introduction of automated SMS texting capabilities. For just 10 cents per text, Firefly Salon users can simply program appointment reminders to send to clients at a preselected time frame prior to their scheduled appointment. As its next phase of this solution, TouchSuite plans to also introduce texting communications to Firefly Retail for a variety of marketing-related communications, such special offers and promotion, or in-store events.
"Today's consumer depends on mobile communications more than ever before, and with the constant introduction of retail-related apps and mobile payment options, their smart phone can handle virtually every aspect of their consumer experience," said TouchSuite founder and CEO Sam Zietz. "By introducing texting as an automated function within our POS solutions, we are simply providing our SMB retailers with the most relevant and efficient communication capabilities they need to not only reach their customer, but to compete with the advanced marketing tools of national chains and big-budget competitors."
The introduction of SMS texting comes less than one month after the award-winning payment technology company announced the integration of another highly-advanced marketing tool for Firefly- an automated one step design-to-delivery solution that allows users to automatically send tailored, printed collateral directly to customers via for just $.69 per postcard. The preprogrammed customer communications, including Thank You cards and birthday promotions, are sent digitally to USPS for distribution based on predetermined prompted data, such as client birthdays or spending minimums for just $.20 more than the cost of a U.S. stamp. Additionally, Firefly Salon users are now equipped with the Frederick's marketing platform, providing them with fully-integrated, intelligent digital communication capabilities that automatically fill last-minute openings, thereby increasing revenues, through fully automated, targeted campaigns direct to clients within their own database.
Beyond its suite of marketing tools, all of TouchSuite's Firefly POS solutions are now equipped to support the company's newly acquired processing solution, Lightning Payments. As one of the only payment processors in the country integrated with QuickBooks®, Lightning Payments provides QuickBooks accounting software users with a direct connection from firefly POS systems to QuickBooks without the hassle of double data entry and with full PCI compliance. Lightning Payments also comes with a full line of additional payment-related tools to enhance and expand the merchant's transactional capabilities. Perhaps the most noteworthy of these new-to-market payment solutions is the Gift Card Exchange (GCE) tool, which creates the first and only opportunity for customers to use unused gift cards from 100+ leading brands (i.e., Starbucks, Walmart, Macy's, etc.) as payment for in-store purchases, right there at the register.
Easy, efficient and remarkably affordable, TouchSuite's Firefly is an Android™-based POS solution that gives small and mid-size businesses access to the same industry tools and innovations as major U.S. retailers, and assumes the responsibility of other costly business solutions and outside vendor services. This intuitive software, packaged in a modern, lightweight touchscreen panel, is internally a vast and comprehensive infrastructure of managerial, administrative, operational, and marketing solutions. Bringing some of the industry's foremost innovations to SMB companies through customized software for both the retail and salon/spa industries, Firefly introduces such forward-thinking features as the first-ever fully integrated, commercially viable EMV processing option, ApplePay and other NFC payment acceptance, customizable inventory and automated commissioning. Its aggressive marketing tools include integrated social media channels, an automated marketing platform for appointment booking, and a comprehensive marketing suite of automated emails with pre-programmed templates.
About TouchSuite: TouchSuite is one of America's leading technology companies focused on the electronic payment space. It has been honored six times on Inc. Magazine's list of the 500 fastest growing private companies in America. The company's latest, patented point of sale system, The Firefly, offers the most advanced software on the market, with full mobile capabilities and a comprehensive marketing suite tailored for SMB retailers and salon and spa owners. TouchSuite is one of only a few processors in the country currently integrated with QuickBooks®, providing users with a more affordable payment processing option that the software's native solution, without the hassle of double data entry, through its auto-sync payment interface, Lightning Payments™. TouchSuite is headquartered in Boca Raton, FL. For additional information about TouchSuite, its company and services, please visit http://www.touchsuite.com.