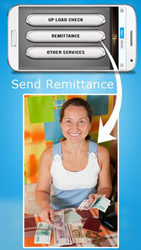 Maxie's mobile money transfer makes it fast and easy to send money home to my family
San Diego, California (PRWEB) July 07, 2015
Traditional remittance companies tend to be expensive and inconvenient for most people who need to send money to another country. The sender typically stands in line, fills out paperwork, hands over their cash and hopes for the best. This process is repeated two or more times a month and, until now, there were few alternatives.
Maxie Mobile announced today the immediate availability of its mobile cross border remittance system providing low cost money transfers to Latin America, the Philippines and other parts of the Asia Pacific region all from the comfort of one's mobile phone. The Maxie Mobile application runs on Apple, Android and Microsoft phones, all PC's and operates 24/7.
Maxie Mobile designed a complete alternative banking system specifically for the unbanked, the underbanked and the unhappily banked. This group, typically referred to as the underserved, needs and wants access to financial services but cannot afford to pay the high bank fees required to use and maintain a typical bank account.
The Maxie Mobile application is free to every user and comes complete with a bank debit card, bill payment services, mobile phone top-up, check cashing and now a full cross border remittance system. Maxie is a fully secure and bank hardened platform that runs in the Microsoft Cloud and on every smart phone and PC. Gil Hooper, the CEO of Maxie Mobile, commented that "Maxie is now positioned to become the alternative banking standard for the underserved population in the U.S." He further stated that, "while Maxie is fully compliant with all banking and governmental regulations, it is not overly restrictive and does not charge fees until services are used and then at a rate that averages sixty percent less than our users typically paid at banks and retailers for these same services."
The Maxie Mobile wallet is funded by employer payroll direct deposit into the wallet, check deposits via the mobile phone, cash loads at 60,000 locations across the U.S. and via bank transfers. Maxie can also be funded through free wallet to wallet transfers that gives its users a real time means of paying another person without using cash or checks.
Maxie has changed the paradigm and opened the doors to a very proud group of people who are typically ignored by most banks because these types of bank accounts cost too much to support. Maxie Mobile is fully committed to providing an ever expanding bundle of financial services to make it easier for the underserved that typically pay too much for too little and have had no alternative until now.
For more information visit http://www.maxiemobile.com
Contact: info(at)maxiemobile(dot)com