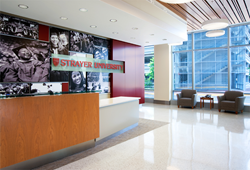 The programming phase is really about understanding the critical nature of a company's work product and how is it enhanced by the people around them
Washington, DC (PRWEB) July 08, 2015
Programming and workplace strategy has been seen by the architects and interior designers at OTJ Architects to be more important than ever in the design of large, corporate offices. This process, which was critical in OTJ's upfront planning for Strayer University's headquarters, Alarm.com and Corporation for National and Community Service (CNCS), enables the architect to collect information to understand an organization's needs looking to improve its ability to meet business objectives, increase employee engagement, integrate appropriate adjacencies and reduce operating costs.
"The programming phase is really about understanding the critical nature of a company's work product and how is it enhanced by the people around them," said Roger Sola-Sole, OTJ Partner.
This upfront information gathering helps to define what is working in a current space and what is not through interviews, surveys, on-site observation and focus groups. To determine how employees use the space and their needs moving forward, we discuss their collaboration level, the importance of acoustics, types of working environments and who visits the space. We also strive to understand the company culture – is it young and vibrant or more serious and refined?
"We ask our clients about the ideal day when they are being most effective and productive. What are the tools, technologies and spaces being using and what are the kinds of spaces that are needed that employees do not have access to?" Sola-Sole said. "With large, corporate clients, it's definitely about efficiency, balance of collaboration, the concept of creating social spaces and the wellness factor of the environment. Retention and recruiting is also high on the list for companies like tech start-ups that want to attract the youngest and most talented, so branding within the design is very important."
Below are three examples where OTJ has utilized a workplace strategy and detailed programming process to help large-scale clients achieve desired results:
Strayer University Headquarters: Strayer was looking to consolidate three offices into a single headquarters building, with 102,000 SF of classrooms, training rooms, conference rooms, offices and administrative space. The project team met with Strayer to conduct a vision session and also performed in-office observation of employees and work habits. The programming process helped to establish standards for different spaces and better understand departmental adjacencies to facilitate a dynamic change from a workflow standpoint and also culturally for the staff.
"Strayer was focused on having the right mix of open office area versus closed offices and conference space was a must," said Diran Corria, OTJ Project Manager. "Visually seeing how employees functioned and being able to understand their day-to-day was very important. The vision session also helped bring ideas from different perspectives into one cohesive design."
Alarm.com: Alarm.com is expanding from approximately 38,000 SF to a total of 80,000 SF on three floors including a 5,000 SF multi-purpose space and 5,000 SF demo "home" complete with interactive product displays. The design goal is to reflect a cutting-edge technology firm with the ability to attract investors, a talented workforce and provide a cohesive work environment to assist with employee retention. This type of growth required a complete shift in the way the office functioned to provide better departmental adjacencies and increased collaboration.
"The size of the project can help determine what methods make most sense – is it small enough that you can meet with everyone or is it close knit enough that the main points of contact can adequately relay what the whole office is looking for?" said Kim Picklap, OTJ Project Designer. "For Alarm.com, we chose to conduct a survey, interviews with each department and a vision session to better understand how staff members worked."
Corporation for National and Community Service (CNCS): OTJ has seen a greater shift to open-office environments from private offices than ever before. Government agencies moving toward less office-intensive environments need to balance open work areas with shared and private spaces. In developing the Program of Requirements as part of this two-phase procurement, information was gathered through interviews, site surveys, questionnaires, on-site observation and data provided by CNCS and the building owner. Information was analyzed to determine future space needs, desired quality levels and overall aesthetic for the 84,600 SF office, which OTJ is now designing. This initial phase provided OTJ with a unique perspective into necessary changes to best accommodate CNCS in its new space.
From our experience working with corporate clients of all types and sizes, we place great emphasis on the initial planning phase, as this process is critical to a project's success when a company is relocating, expanding or facing a cultural shift in the office.
Contact OTJ Architects to discuss your architectural needs today.
About OTJ Architects
OTJ Architects is a well-respected national interior architecture design firm that has successfully completed thousands of projects throughout the country. Founded in 1990, OTJ is comprised of five studios headquartered in Washington, DC, with more than 60 architects and designers, many of whom are LEED Accredited Professionals. OTJ works on projects coast to coast and is able to consult in all 50 states. The responsive interior architecture consultants create effective environments through listening, understanding and tailored design. These designs focus on helping clients enhance collaboration, company branding and employee recruitment and retention. OTJ's design teams provide clients with personalized attention to create workplace solutions that reflect their unique, individual needs. For more information, please visit http://www.otj.com.