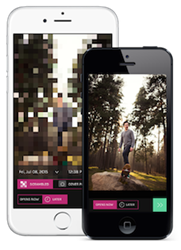 Trunq combines the best of messaging and personal storage for easy sharing and saving of favorite digital items.
Chicago, IL (PRWEB) July 20, 2015
Trunq is proud to announce the release of its mobile app and website to capture, share, and privately store favorite videos, photos, and other electronic files. Trunq users can capture and share their favorite moments as they happen, send something special to be opened later, or upload and save a blast from the past. The digital memories are delivered to "trunqs" -- private digital scrapbooks that preserve the items in an organized gallery for viewing on mobile devices and computers.
Trunq's "Later" feature lets users create and deliver special video and photo moments to trunqs and set them to open on a date and time in the future. Sending something later is a memorable way to highlight a birthday or other important event. To send a "Later," users wrap the item, and it is delivered wrapped to recipients' Trunq gallery until opening on the selected future date and time.
Trunq's mission is to provide a platform for users to set apart their favorite digital items. Most people have thousands of electronic items stored or posted on devices, computers, and social networks. But it is becoming more difficult to locate the best things like the special video friends made on a birthday, pictures from a favorite vacation, or the ticket from a favorite event. Those best moments are often buried with random items like screenshots of friend's meals or are posted to an app where they disappear. Trunq is the special place to separate, store privately, and easily share favorite digital items in a fun, organized way.
Although Trunq allows users to share easily with others, it is private by default. Items in users' trunqs, unless shared, are not not seen by other Trunq users or otherwise disclosed publicly. Therefore, each user can curate his or her own treasure box of memories and mementos. Or parents can capture and store special moments of their children as they happen.
Trunqs mobile app is free and available on iOS and Android. Download the iOS app here. Download the Android app here. Trunq users also can share and view their Trunq gallery on the web at http://www.trunq.com.
Please access the Trunq press kit here.