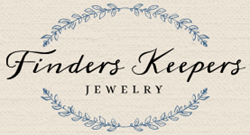 Our Summer Sales gives customers 20 percent off their entire order.
Saint Louis, Missouri (PRWEB) July 07, 2015
Representatives with Finders Keepers Jewelry (https://finderskeepersjewelry.net) announced today that it is now offering customers a huge discount through its Summer Sale.
"Our Summer Sales gives customers 20 percent off their entire order," said Stacey Fish, spokesperson for Finders Keepers Jewelry.
Finders Keepers Jewelry's mission, according to Fish, is to keep women all over in style and well-accessorized at perfectly affordable prices.
Fish explained that in order to receive the discount, the minimum purchase is only $50. During checkout, customers simply enter discount code: Bling.
"This offer is good Through July 11," Fish point out in reference to the discounts, which comes on the heels of the company adding more than 200 new items to its online store, in addition to free shipping.
"We have more than 200 inexpensive fashion jewelry pieces we've recently added," Fish said, before adding, "As you can see, we have a wide range of jewelry to offer. We invite everyone who loves jewelry to visit our online store, browse through, and take advantage of the inexpensive deals we offer, and have all shipping costs waved through the first week of July."
For more information, please visit https://www.fkjewelryblog.com and https://www.finderskeepersjewelry.net/aboutus
About Finders Keepers Jewelry
Our high end Fashion Jewelry inspires every woman to curate her signature style, without breaking her bank account. There are limited quantities of each fashion jewelry find to ensure that your style isn't imitated.
If you wait too long, your favorite piece might disappear, as items come and go quickly at Finders Keepers Jewelry.
Source: Finders Keepers Jewelry
###