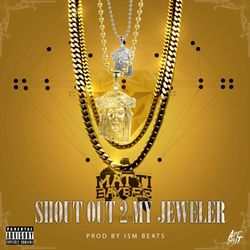 Chicago, IL (PRWEB) July 06, 2015
Coast 2 Coast Mixtapes presents the release of the "Shout Out To My Jeweler" Single by Matti Baybee. This hot new track is currently available to stream and download on the Coast 2 Coast Mixtapes website. With production credits from ISM Beats, "Shout Out To My Jeweler" is the first single off of Matti Baybee's upcoming project "So Abnormal 2" The Mixtape.
Chicago has bred many talented artists from its inner city streets, but none as Crafty, young & gifted, as Matthew Ben-Israel Hess, better known to his fans as Matti Baybee. So ahead of his time, the 16 year old Chicago native has sparked a undeniable flame as one of Chicagoans well known Hip Hop artist. Matti Baybee began his music career about 2 years ago during his 8-grade year of school, while still becoming valedictorian of his 8-grade class. In the midst of all the negative press and gun violence that has plagued the city of Chicago, Matti Baybee is a light that's shinning thru all the gloominess. While all the young mc's around his age rhyme with profanity about guns, drugs, sex, gang affiliation, Matti Baybee has chosen a different approach. Though Matti uses no profanity, not even the N word, he has still been able to attract fans, maintain a stronger base, and deliver a fresh, unique, industry ready sound to music lovers from all ages and walks of life. Matti states in one of his rhymes "The streets are not a joke that's why I'm never in the streets I'm just trying to make some music to make it to the industry".
Matti Baybee, under the young legends Music Group independent imprint, released his first Mixtape in Sept 2013 titled Young Legend Vol. 1, hosted by DJ Victorious, which yielded 180K downloads on livemixtapes.com, A Classic Master Piece according to internet blog sites. Without hesitation and a young, energized unwavering work ethic, Matti completed a total of 5 music videos for the project, accumulating over 4.5 million views. Matti Baybee's buzz is Chicago led to him garnering songs featuring signed artist such as Def Jam Recording Artist Lil Durk, Epic Records/King Louie. While the success of the Mixtape is not enough to minimize his work ethic, Matti continued to drop songs & videos featuring the likes of fellow Chicago artist, Lil Mouse. Receiving continuum success, Matti dropped 3 more videos; gaining over 2 million views off of freestyles songs as well as original music.
The release of his 2nd Project Young Legend Vol. 2 did nothing less than catapult him to extreme heights and solidified him as one Chicago's household names above most of his peers. The mixtape released April 1st 2014, less than one year prior to the first release recorded undeniable numbers, over 120k downloads in the first 3 months. Continuing to work vigorously, with appearances on VLADTV, Interviews with Radio stations, 3 new videos, which also has produced astonishing numbers. One song featuring his cousin BIG GLO an artist, who was just signed to Interscope Records, but passed away prior to the release. (RIP BIG GLO) With an untamed motivation to move forward and achieve the ultimate dream, Matti now prepares for the release his 3rd mixtape on July 26th 2014 in Atlanta, at the Fleet DJs Music Conference . With success of a major label situation on the horizon Matti Baybee has a name, a strong following & the potential to capture the world with his music. Watch his future unfold before your eyes. Success is inevitable.
Stay up to date with news regarding Matti Baybee on Twitter at: @MattiBaybee
About Coast 2 Coast Mixtapes
Coast 2 Coast Mixtapes are the most widely distributed mixtapes in the world, with over 100 million downloads/plays generated by over 200 volumes officially hosted by major artists. Coast 2 Coast has a solid reach in the new music industry with a digital magazine, DJ coalition, industry tips blog, yearly convention, and more. Coast 2 Coast Mixtapes represents a unique opportunity for artists of all urban genres, from major to indie. For more information, visit http://www.coast2coastmixtapes.com.