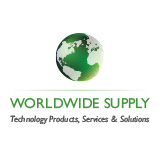 Franklin, NJ (PRWEB) July 09, 2015
Worldwide Supply today announced the launch of a new, redesigned version of its website, http://www.worldwidesupply.net. Key features of the site include a more engaging user experience with enhanced navigation, improved quote functionality and a comprehensive product section with enhanced search capabilities allowing customers to quickly access the specific products needed.
All products available for purchase from Worldwide Supply can be found on the site, and users can quickly request a quote or additional information. The ability to make Worldwide Supply's product catalog easily accessible will enable the company to better support the needs of its customers by ensuring they have all of the information needed to make timely business decisions. Information on key services, such as NetGuard is also readily available.
"We are excited to be able to offer a more robust website to our customers to better support their needs," said Jay VanOrden, CEO. "Understanding how critical having working systems are to their business, we want to offer as many paths for our customers as possible."
The site's refreshed and updated look, combined with enhanced content and improved search functionality allows consumers to better interact with Worldwide Supply. The responsive design will allow for a seamless customer experience regardless of device.
The new http://www.worldwidesupply.net allows for enhanced customer interaction with elements such as live chat, a customer portal and more.
About Worldwide Supply
Worldwide Supply is the global leader in networking hardware and services solutions with an expertise in the data, wireless and wireline technology sector.
Headquartered in northern New Jersey, with offices in California, Hawaii, Massachusetts, Mexico, New York, Netherlands (Europe), North Carolina and Texas, Worldwide Supply provides products, asset management programs, technical services and third party maintenance to clients globally.
Worldwide Supply backs the products it sells with an industry-leading lifetime warranty and offers products from major manufacturers like Cisco, Juniper, Arris, Alcatel-Lucent, Ericsson, Nokia and more. Worldwide Supply is TL 9000 and 9001:2008 certified.
________________________________________
For additional information on this topic, about Worldwide Supply or to schedule an interview with Worldwide Supply CEO, Jay VanOrden, please contact Allison Kraut at 973-823-6412 or via email at marketing(at)worldwidesupply(dot)net.