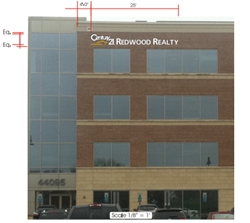 "We want an office with a purpose," said Nick Pasquini, CFO. "Redwood is more than a place to hang your license, it's a place to build your career."
Ashburn, VA (PRWEB) July 07, 2015
CENTURY 21 Redwood Realty announced today that it will move it's Ashburn office to a new location on Pipeline Plaza in August , to include a fully integrated corporate headquarters.
The new suite, located adjacent to the intersection of Ashburn Village Boulevard and Farmwell Road, at 44095 Pipeline Plaza, will be much larger and have a modern, sophisticated feel. The front 'client friendly' reception area, with three expansive conference rooms, will flow into the dedicated agent area. The corporate headquarters will wrap around the back of the suite. The third floor location will offer expansive views from the bank of windows encircling the entire suite.
Designed as 'the office of the future,' the space will afford Redwood's agents numerous dynamic working environments. The centrally located fishbowl, with high top tables, lounge area and transitional workspaces, will allow for comfort and collaboration. Floating offices and conference rooms will be available for agents, who can book them using an online reservation app or an in-office kiosk. The office will accommodate whatever the event of the day may be, from small meetings, to large meetings, company gatherings, and/or full-scale social events.
"The real estate model is changing, and so are the needs of the agent," said Shawn Milletary, COO and Chairman of the Dulles Area Association of REALTORS. "The technology that is now available has made us a mobile industry, and our office environment needs to reflect that. This new office will empower our agents to work however they are most comfortable."
"We want an office with a purpose," said Nick Pasquini, CFO. "Redwood is more than a place to hang your license, it's a place to build your career."
The firm will host a hardhat tour of the new office for agents in mid-July, and a grand opening celebration will be held in mid-October.
CENTURY 21 Redwood Realty is a Principal Member of the Cartus Broker Network. The firm's proprietary broker and agent website platform is known for its home search that enables users to search by neighborhood and school boundaries.
####