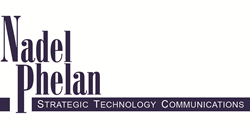 "Receiving the title of 'PR Agency of the Year' from these two organizations is really a tribute to the Nadel Phelan team, whose hard work led to this success and validates our commitment to helping our customers achieve their public relations goals."
SCOTTS VALLEY, CA (PRWEB) July 08, 2015
Nadel Phelan, Inc., leader in strategic and tactical high-tech public relations and marketing, announced today that it has been selected as "PR Agency of the Year" by the Silicon Valley Awards and IT World Awards.
Over the past two decades the firm has leveraged its knowledge of technology and market trends, in security, mobile, wireless and infrastructure technologies to maximize the visibility of its clients' offerings. Strategies have included:

Executing global programs: The firm has conducted worldwide PR campaigns that have secured thought leadership positions for its clients. Nadel Phelan has earned a reputation among press and analysts as a reliable source, representing quality products and delivering relevant news.
Expediting exit strategies: The firm has supported over 85 acquisitions, three of which sold for over one billion dollars. Through its in-depth market knowledge, Nadel Phelan has guided over 16 IPOs on eight international exchanges.
Category makers: Nadel Phelan has had the honor of introducing several industry-first technologies and establishing new market categories that have changed how companies, individuals, and industries do business.
SUPPORTING QUOTE:
Paula Phelan, CEO, Nadel Phelan Inc., said: "Receiving the title of 'PR Agency of the Year' from these two organizations is really a tribute to the Nadel Phelan team, whose hard work led to this success and validates our commitment to helping our customers achieve their public relations goals."
About Nadel Phelan, Inc.
Nadel Phelan, Inc. specializes in comprehensive public relations and marketing for a roster of clients ranging from venerable industry giants to innovative startups. By combining high-level industry knowledge with in-depth technology experience, Nadel Phelan provides its clients with the strategic and tactical services necessary to establish and maintain global marketplace awareness essential in obtaining and preserving a competitive edge. Nadel Phelan is headquartered in Silicon Valley, California with offices in New York, Vancouver, Hong Kong, Tokyo and London. For more information please visit http://www.nadelphelan.com or call 831-439-5570.
###