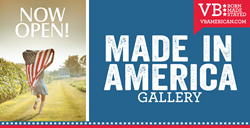 We are beyond pleased to announce this partnership with Vaughan-Bassett, one of the premier furniture manufacturers in the nation...
Atlanta, GA (PRWEB) July 09, 2015
"We are beyond pleased to announce this partnership with Vaughan-Bassett, one of the premier furniture manufacturers in the nation..." said Underpriced Furniture Owner and President, Mike Hall. "Add to that their legendary quality and the fact that Vaughan-Bassett is 100% American made and it's a relative no-brainer that we would enter into such a special opportunity with such an esteemed manufacturer to support American jobs."
Based in Galax, Virginia, Vaughan-Bassett is not only the largest manufacturer of wooden adult bedroom furniture in the United States, but they're also proud of the fact that their entire line of furniture is manufactured here in the United States by American employees. Led by Company Chairman, John D. Bassett III, the manufacturer has fought to turn the overwhelming tide of low-priced merchandise imported from China - the same imports that contributed to the closure of many other American-based furniture manufacturing plants. Bassett's struggle against the outsourcing of American manufacturing jobs is well documented in the New York Times best-selling book, Factory Man, which chronicles his battle to save hundreds of jobs in the small town of Bassett, Virginia, a town named after his family and the factory they established there. That commitment to American manufacturing has helped Vaughan-Bassett to produce what they say are the very best values possible, domestic or otherwise.
It's that value and quality that attracted the attention of Hall, who was seeking to revamp an area of his showroom to boost sales. In business for over 29 years and always in search of new and innovative ways to increase his revenue per square foot, Hall and his unique merchandising practices have drawn much attention and praise from industry experts across the country. Underpriced Furniture has helped to pioneer the use of vertical merchandising in increasing profitability with an existing footprint. For example, in a single, double-decked, living room vignette, Hall and his design staff are able to showcase four different living rooms - sofa/loveseat or sectional in two available colors - in the space of one.
With the new Vaughan-Bassett bedroom showcase, however, he's pushing the envelope to display up to as many as 12 different bedroom options within the space of 4 traditional bedroom vignettes. Hall goes on to add, "We've always strived to provide our customers with more choices and more selections and this Vaughan-Bassett display promises to be revolutionary, even by Underpriced Furniture's standards."
About Underpriced Furniture
Founded in 1987, Norcross, Georgia-based Underpriced Furniture has built a reputation on providing greater Metro Atlanta residents with quality home furnishings, bedding, and accessories at guaranteed lowest prices. Add to that their non-commission sales staff and same-day delivery, and it's no wonder that Underpriced Furniture is a 5-time winner of Gwinnett Magazine's Best Furniture Store in their annual Best of Gwinnett issue, most recently in 2014. For more information on Underpriced Furniture, please call (404) 418-8544 or visit http://www.underpricedfurniture.com.