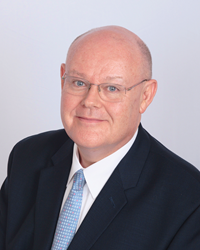 With more than 18 years of experience in Catholic higher education, Dr. O'Sullivan is an extraordinary educator who is well prepared to help lead Saint Peter's to the next level of excellence and success
Jersey City, N.J. (PRWEB) July 07, 2015
Saint Peter's University today announced that Gerard O'Sullivan, Ph.D., has been appointed to the position of provost and vice president for academic affairs for the University, effective July 1. Dr. O'Sullivan most recently served as the vice president for academic affairs, as well as professor of English and theological studies, at Neumann University in Aston, Pa.
"With more than 18 years of experience in Catholic higher education, Dr. O'Sullivan is an extraordinary educator who is well prepared to help lead Saint Peter's to the next level of excellence and success," said Eugene J. Cornacchia, Ph.D., president of Saint Peter's University. "We are pleased to have him on campus and look forward to leveraging his expertise in this role."
During his time with Neumann University, Dr. O'Sullivan helped lead the transition from college to university and played a central part in a major rebranding campaign, which ultimately led to increased enrollments. He administered a multi-million dollar renovation of the Neumann University Library and recruited and retained talented faculty from across the country and the world. He secured and directed a $1.9 million federal Title III, Strengthening Institutions Program grant designed to increase four-year graduation rates through the creation of a walk-in advising center, a centralized developmental education program and a revised freshman year experience program. As a result, the institution realized a 15 percent increase in graduation rates. Among other accomplishments, he worked to generate new and effective faculty policies and created cost efficiencies, which helped generate large annual operating margins.
In his new role at Saint Peter's, Dr. O'Sullivan will play an integral role in developing the plans and programs to deliver the vision set forth in the University's new strategic plan titled, "Pathways to Distinction," which was approved by the Board of Trustees earlier this year. He will also lead recruitment efforts to hire and retain distinguished faculty and administrators.
Dr. O'Sullivan previously served as dean of arts and sciences and associate professor of English and religious studies at Felician College in Lodi, N.J. Prior to his role at Felician, he was assistant professor of English and literary studies and founding co-chair of the Program in Literary Studies at Fordham University. Dr. O'Sullivan also served as an instructor of humanities and intellectual heritage at Philadelphia College of Pharmacy and Science.
"Catholic higher education is not just my profession, it is my vocation," said Dr. O'Sullivan. "Saint Peter's mission resonates deeply for me because it emphasizes a student's capacity to excel and the Jesuit focus on magis or the call to do more in service to others. I am honored to be selected to join the Saint Peter's community and I look forward to working with Dr. Cornacchia and the University's students, faculty and staff."
Dr. O'Sullivan earned his B.A. in English and theology in 1981 from Fordham University and went on to obtain his M.A. in theological studies in 1985 from Vanderbilt University Divinity School. In 1994, he earned his Ph.D. in comparative literature from the University of Pennsylvania. He also earned certificates from the Harvard Institute for Educational Management and the Collegium Phenomenologicum of Perugia, Italy.
# # end # #
Saint Peter's University, inspired by its Jesuit, Catholic identity, commitment to individual attention and grounding in the liberal arts, educates a diverse community of learners in undergraduate, graduate, doctoral and professional programs to excel intellectually, lead ethically, serve compassionately and promote justice in our ever-changing urban and global environment. To learn more, please visit http://www.saintpeters.edu.