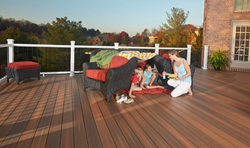 Plus, unlike wood decking, Fiberon decking will never splinter, rot, or crack, or decay due to insect infestation.
NEW LONDON, N.C. (PRWEB) July 07, 2015
Fiberon® has been named a 2015 Eco-Leader by Green Builder® magazine, the building industry's leading publication focused on green building and sustainable development. The leader in innovative, eco-friendly composite decking, Fiberon was one of two smaller manufacturers featured in the June issue, alongside global sustainability giants such Schneider Electric, LG Electronics, Ford Motor Company, and Royal Philips. All of these companies are "walking the walk" when it comes to sustainability, notes Green Builder, and "confronting environmental challenges and reimagining their products, manufacturing processes, and their relationships with suppliers and communities in which they have a presence."
Founded in New London, North Carolina, in 1997, Fiberon has a demonstrated commitment to environmentally responsible manufacturing:

Locally-sourced pre- and post-consumer recycled content diverts more than 50,000 tons of wood and plastics from landfills and incinerators each year
No harmful chemicals are used during or after manufacturing
More than 98.5% of manufacturing waste materials are recovered
A closed-loop water cooling system results in near-zero water discharge
Bi-coastal manufacturing (plants are located in New London, North Carolina, and Meridian, Idaho) and rail transportation reduce company fuel consumption and CO2 emissions
No trees are ever felled to make Fiberon composite decking. There is no need to stain or refinish Fiberon products; an annual soap and water cleaning is usually sufficient. Plus, unlike wood decking, Fiberon decking will never splinter, rot, or crack, or decay due to insect infestation.
Another "green" element of the Fiberon story: product durability and longevity. Low-maintenance Fiberon decking is made to last, and backed by a 25-year residential limited warranty. The company's capped composite products, including the best-selling Horizon® Decking line, offer an additional 25-year stain and fade warranty. Plus, Fiberon products are completely recyclable at the end of their useful lifespans.
"Fiberon is both pleased and humbled to be included on Green Builder magazine's 2015 list of Eco-Leaders," notes Fiberon CEO Doug Mancosh. "Since its inception, our company has been focused on developing innovative outdoor living products that are both easy to own and easy on the environment. Today, that commitment to sustainable product development and eco-conscious manufacturing remains strong as ever."
###
About Fiberon
Fiberon is a leading manufacturer of wood-alternative decking, railing, and fencing products available around the globe. Through cutting-edge, American-based manufacturing, Fiberon has created new benchmarks for innovation in outdoor living products. The company is a leader in sustainable practices, with innovative manufacturing processes that capture 98.5% of waste materials, and divert 50,000 tons of wood and plastic from landfills each year. Fiberon, a proud sponsor of NADRA (North American Deck and Railing Association), is privately owned with operations in North Carolina and Idaho. For more information, visit http://www.fiberondecking.com and follow Fiberon on Facebook, Pinterest, Twitter and YouTube.