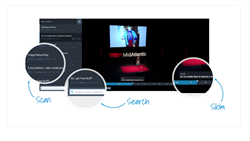 "ClipMine is taking all the video in the world and putting it in one big, smart library."
Mountain View, Calif. (PRWEB) July 07, 2015
We watch six billion hours of video on YouTube each month, 300 hours of video is uploaded to YouTube every minute, and video is expected to make up 84 percent of all U.S. Internet traffic by 2018.
With this prolific content consumption and creation phenomenon, former Google engineer, Zia Syed, saw a flaw in the only way to find great video—search. While most online videos are indexed by title, metadata, and description level, Syed knew there was a better way to organize video content for creators, consumers, advertisers, and publishers.
ClipMine, which launches today, is the first video indexing and annotation platform that combines crowdsourcing along with machine learning to create high quality video annotations. ClipMine tags inside the video, bringing deep indexing to life. For creators and consumers, a table of contents not only helps everyone discover meaningful content, it aids in sharing, embedding, ad targeting, analytics—and search.
"ClipMine is taking all the video in the world and putting it in one big, smart library," said ClipMine Founder and CEO, Zia Syed. "Everyone will be able to browse content and find the exact scene in a movie they want to share, or the specific part of an educational lecture they want to review. We're fundamentally changing the way people find and consume video--and helping creators and publishers receive more value from their videos."
The ClipMine video annotation process is simple. Anyone can import a video from sites like YouTube, DailyMotion or Vimeo into ClipMine and annotate it--or request that the ClipMine editorial team index the video with its patent-pending auto-indexing technology. For creators, bloggers and large publishers, embedding the ClipMine's Content Aware Video Player™ allows their viewers to personalize the viewing experience and to receive great insight into how they are engaging with the content. While anyone can add annotations to a video, the video embedders have full control over which annotations will be visible on their website. ClipMine also ensures that all publicly visible annotations are of high quality.
"ClipMine is a cool innovation--a brilliant solution to organizing video content in a way that serves everyone in the video ecosystem, and of great value to consumers of video," said ClipMine Advisor and investor, Ram Shriram, Managing Partner at Sherpalo Ventures and a founding board member of Google.
The company has raised $2.6M in funding from private investors including Ram Shriram, Managing Partner at Sherpalo Ventures; Greg Badros, former Facebook VP of Engineering and Products; and serial entrepreneur Amarjit Gill.