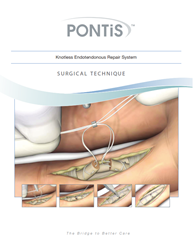 San Francisco, CA (PRWEB) July 08, 2015
PONTiS Orthopaedics, LLC (http://www.pontisorthopaedics.com), announced today that it has closed its $2million Series A private fundraising. The Company will apply the funds toward sales and marketing programs for its hand and its foot-and-ankle surgical product lines. Founder and CEO Leonard Gordon MD said, "The new funds will provide critical resources for us to ramp-up our commercialization efforts. Surgeon response has been quite positive, and we plan to build on early successes in the market."
Investment funds have been provided by individual private investors as by current company shareholders.
About PONTiS Orthopaedics, LLC
Founded by renowned orthopedic hand surgeon, Leonard Gordon MD, and located in San Francisco, PONTiS has developed the unique PONTiS™ Surgical Instrument and Implant System for the repair of tendons and for re-connection of tendons to bones in the hand, wrist, elbow, shoulder, knee, foot and ankle.
The PONTiS technology simplifies and speeds surgical repair, enables minimally invasive repair methods not previously available – and produces a repair with significantly higher ultimate strength. The PONTiS system for the repair of flexor tendons in the hand addresses a large market with over 150,000 potential procedures annually, in the USA alone. The company's IP also accesses additional orthopedic markets and PONTiS has obtained FDA clearance for Achilles tendon repair at the ankle, Biceps tendon re-attachment at the elbow and shoulder, Patella tendon repair at the knee and ligament repair in the wrist.
Further information: Please contact Tom Ross, PONTiS COO, at tross(at)pontisorthopaedics(dot)com or 1-408-656-1585.