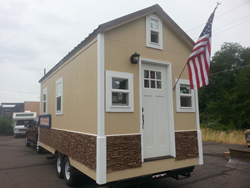 We Make Tiny Homes Feel Like a Home
Cedar City, UT (PRWEB) July 13, 2015
It's difficult to turn on the television or open a home living style magazine and not hear news about the latest tiny house being built and lived in by a happy family. This has created huge interest in tiny house builders who can deliver high quality, affordable homes with attention paid to the important details that make the style of living so special and popular. Answering this call is Upper Valley Tiny Homes, who recently proudly announced that they are officially manufacturing tiny houses nationwide.
"We really have a passion for tiny homes so making the switch to doing this full time and changing our name was only natural," commented Mike, owner of the company. "We love what we do and put our all into exceeding our clients expectations. It's a win/win all around, and we don't think there's a better place to find a tiny house."
Upper Valley Tiny Homes, was originally called Upper Valley Builders, until they started getting an unusual amount of requests from their customer to build tiny homes instead of small sheds or cabins. The company started offering their services to build tiny homes to those who own recreational properties, but quickly realized, not as many people were seeking tiny houses for recreational use, but rather wanted to live in these tiny homes as a full time residence. This inspired a switch of floor plans for these tiny houses from recreational use, to floor plans more ideal for long time living. Along with this quickly came a shift in marketing, and Upper Valley Tiny Homes was born and quickly winning praise.
According to the company, tiny houses has taken the world by storm due to the rising popularity of living small, conservatively and in a house for a fraction of the cost of a regular home.
Upper Valley Tiny Homes, are crediting three reasons for their success in switching the direction of their company:
1.) Hot Market: Tiny houses have not been around for a long time and have been becoming extremely popular. Many people believe this niche has a great potential to change the world for the better, so Upper Valley Tiny Homes decided to become part of this process. The idea of not only expertly serving a hot market, but to change the world for the better, is very appealing to founder Mike and his staff.
2.) Competition: Upper Valley Tiny Homes found that most or all of their competitors are too over priced, meaning that their closest competitor that can match their tiny house cost is still $8,000 more than Upper Valleys standard tiny home cost. The company originally built cabins and sheds at a price that was affordable for nearly any consumer to buy, now he has the same vision to build tiny homes affordable enough for client to buy without the extreme markup costs.
3.) Floor Plans: Mike realized that he floor plans in most tiny homes were very inefficient with small cramped kitchens, sleeping quarters that were too small to sleep in, and inefficient storage. Mike made sure all his tiny houses were designed to feel like a real house with a full size kitchen, full size bath, lots of storage, and finally large sleeping areas. Upper Valley Tiny Homes is proud to make the change to become a full distributor for tiny houses and is looking forward to keeping their tiny houses affordable, spacious, and productive.
Upper Valley Tiny Homes is happy to discuss any tiny house project with potential clients and give their professional input on what it would take to bring it to life, as a well respected and experience tiny house builder.
For more information be sure to visit uppervalleytinyhomes.com