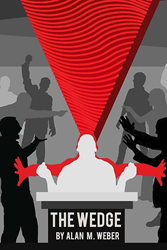 Political allegory at its best!
(PRWEB) July 13, 2015
Steven Wellstone is a political scientist who is so frustrated with the way politicians use wedge issues, scapegoats, distractions, and lies to divide and manipulate the public to their benefit come election time, that he decides to do the unthinkable.
He becomes one. In a plan to expose just how vulnerable the electorate is to political manipulation, Wellstone intends to use every dirty trick in the politician's magic bag, develop a following and then expose the truth. But as with many a 'best laid plan'…things don't quite work out according to said plan. Funny, infuriating, heart-wrenching, enlightening, poetic, thrilling, provocative and full of unexpected twists, The Wedge is a must-read, particularly as the pre-election madness begins to build.
About the Author: Alan M. Weber has been published under this, his real name, and under a pseudonym. His most recent published work is a children's book on war titled "Not for Hurting". He has also written and published a multimedia memoir with universal themes, an essay in Education Digest on "The Misdirection of Modern American Education," and poetry. He has been a college professor for a quarter century, holding an undergraduate degree in political science and a graduate degree in education. Learn more at http://www.alanmweber.com and follow him on Twitter @alanweberauthor.
Watch the video trailer: https://youtu.be/Ws86_1bLf3M
THE WEDGE (ISBN: 978-1-51163-127-3) is available for $10.99 and can be ordered through the publisher's website:
https://www.createspace.com or at Amazon.com or Barnesandnoble.com.