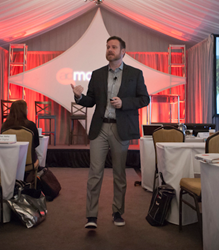 I've never met anyone else who gets what AdMonsters is about so well, and who also has such a remarkable command of ad operations topics.
New York, NY (PRWEB) July 06, 2015
Access Intelligence, a leading worldwide information and media company which acquired AdMonsters earlier in 2015, announces the promotion of Rob Beeler to the position of Publisher of AdMonsters, the premier community of digital media leaders.
Rob Beeler joined AdMonsters more than 6 years ago and has worked in Ad Operations for over 15 years. Previously serving as Vice President of Content and Media, Beeler will now have responsibility for business operations and further development of AdMonsters website, content, and events.
"I've had the pleasure of working side by side with Rob over the past four months and I am very impressed with his depth of knowledge and relentless desire to make this brand the best it can be," said Diane Schwartz, Access Intelligence's Media & Broadcasting Group's senior vice president and group publisher.
Founded in 1999 by Bowen Dwelle, AdMonsters produces the Publisher Forums, held three times a year, and the annual OPS conference in New York. These events, serving thousands of media professionals annually, are defining the future of digital media operations and advertising technology. This year's OPS conference was held in New York City on June 9 and was the largest yet with over 700 attendees. AdMonsters next event is the Publisher Forum to be held August 23-26 at the Wild Dunes Resort in Isle of Palms, SC. The Publisher Forum will include sessions on viewability, ad blockers, agency ad ops, billing approaches, and cross-device measurement and cross-device measurement, among many other hands-on operational and technical topics.
AdMonsters also hosts workshops and networking events nationwide and serves a vibrant online community of leaders in ad operations and technology platforms at media companies around the world, in addition to ad agencies, technology providers and others at the intersection of advertising, branding, technology and engagement. Under Beeler's strategic leadership, these events and the AdMonsters brand will continue to grow and serve the ad operations industry.
Bowen Dwelle, founder and former CEO of AdMonsters said, "Rob has shown himself to be a true leader amongst peers. And I mean literally – people used to follow me out on the town after the conference, and all of a sudden they were following him. I had to hire him! I've never met anyone else who gets what AdMonsters is about so well, and who also has such a remarkable command of ad operations topics. I have great confidence that Rob is the right person to lead AdMonsters forward."
About AdMonsters: Founded in 1999, AdMonsters offers unparalleled in-person experiences and unique, high quality online content focused on media operations, monetization, technology, strategy, platforms and trends. AdMonsters creates meeting places for members of the dynamic digital technology community to connect and develop best practices. Learn more about AdMonsters services and content at http://www.admonsters.com.