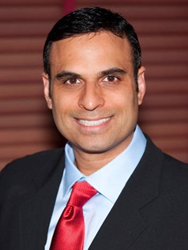 Chicago, IL (PRWEB) July 06, 2015
Dr. Amarik Singh, a prominent periodontist with Periodontal Implant Associates, is happy to announce that he is expanding his patient base to include those in need of dental implants in Chicago, IL, without the need of a referral. Dr. Singh understands that obtaining dental treatment can be difficult for people in many situations. He hopes that allowing patients to be seen without a referral may provide a more affordable and accessible means for dental care, for many of his tooth replacement patients.
Many tooth replacement options can be effective, but none have the longevity that dental implants provide. This makes them the most preferred method for the replacement of missing teeth in adults today. Unlike partials and dental bridges that must be repaired or replaced, dental implants can last for decades if treated properly. This proper care simply requires a dental hygiene program identical to what dentists recommend for natural teeth: daily brushing and flossing. Moreover, patients do not have to limit their food choices or deal with the embarrassing noises that often plague denture users. Instead, patients may be so comfortable with their implant replacements, that they cannot easily distinguish the prosthetic teeth from the natural.
To recommend dental implants in Chicago, IL, Dr. Singh must first determine if a patient is an ideal candidate. To be approved for this treatment, patients must have enough bone density in their jaw to handle the load of the implant. Once a tooth becomes lost, the bone will eventually begin to deteriorate and lose its strength. If the bone has deteriorated to an exceeded capacity, Dr. Singh may assist in restoring the bone using other treatments, prior to placing implants. Once the implant is in place, however, that loss will cease to occur because the root of the implant will begin to stimulate the jaw, just as that of a natural root.
Those who would like more information about how dental implants in Chicago, IL, can help them regain the smiles they have desired should contact Dr. Singh's office to schedule a consultation. By allowing patients to see him without a referral, he is helping patients initiate the tooth replacement treatment process earlier, allowing them to quickly fulfill their dreams for a new smile.
About the Practice
Periodontal Implant Associates is a periodontal practice offering personalized dental care for patients in Chicago, IL. After graduating from Northwestern University Dental School, Dr. Amarik Singh went on to obtain his Specialty Certificate in Periodontics and earn his Master's from Northwestern University. Dr. Singh is deeply committed to continuing education and prides himself on remaining on the cutting-edge of the newest techniques and technology in dentistry. Dr. Singh is part of an elite group of dental professionals at the forefront of the Chao Pinhole® Surgical Technique (PST®), a revolutionary new approach to repairing gum recession. To learn more about the periodontal services available at Periodontal Implant Associates, please visit http://www.pidentists.com or call 630-424-9404.