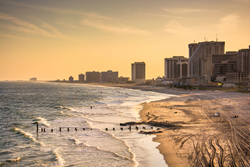 After dinner, guests will have the opportunity to meet the artist of their choice and attend their concert.
White Plains, NY (PRWEB) July 07, 2015
The experience begins with a private helicopter flight for two people from New York City (Midtown Manhattan) to Atlantic City International Airport. Travelers will be picked up from the West 30th Street Heliport and land in Atlantic City just an hour later, skipping all traffic. A luxury sedan will be waiting to take the couples to dinner at one of the many restaurants Atlantic City has to offer. After dinner they will have the opportunity to meet the artist of their choice and attend their concert.
Concert Dates:
July 10: Idina Menzel
July 11: George Lopez
July 24: Lady Gaga & Tony Bennett
July 26: Jill Scott
August 1: James Taylor
August 2: Rob Thomas
August 7, 8: Jerry Seinfeld
August 16: Willy Nelson
August 21,22: Santana
August 28: Lisa Lanpanelli
Guests will have the option to stay overnight in Atlantic City or return to the helicopter and conclude the evening with a stunning New York City skyline tour before being dropped off at West 30th Street. Pricing is available upon request.
The experience can be booked via XM Concierge at Jaime(at)xmconcierge.com. Advance reservations are required and a 48-hour cancellation policy applies. This is a weather permitting outing.
About XM Concierge
XM Concierge is one of the leading entertainment providers for the world's top companies and individuals; Creating bespoke experiences from simple access to an event, to fully customizing unforgettable entertainment experiences. http://www.xmconcierge.com
About Wings Air Helicopters
Wings Air Helicopters was founded in 2002 by former investment banker Javier Diaz. As an experienced pilot he wanted to create a company that would stand above the rest and meet aviation needs for the sheer pleasure and beauty of airborne travel. Wings Air offers a wide variety of helicopter services including private charter, luxury travel experiences, sightseeing, flight instruction and aerial cinematography, serving the Northeast USA and parts of Canada. Wings Air is approved by Wyvern Ltd. (global aviation safety auditing) and currently operates a fleet of 5 helicopters including a Eurocopter AS350, AS355 (Twin Star), MD600, Robinson R44 and R22, safely flying an average of 3,500 hours per year. Wings Air is the Official Helicopter of the Monticello Motor Club and its personalized customer service has been recognized by a Certificate of Excellence from Tripadvisor.