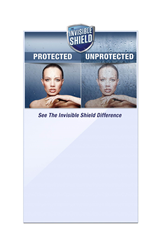 "Easier cleaning, less work, longer life for your bathroom fixtures and an improved; clean & shiny appearance on bathroom surfaces, for just pennies a square foot," said Heather Ohlhausen from Unelko Corporation. "You will love this product!"
Scottsdale, AZ (PRWEB) July 08, 2015
Unelko Corporation is pleased to announce that their innovative Clean-X® Invisible Shield Bathroom Protection Kit is now available at Lowe's. In addition to Lowe's, the time saving Clean-X products are also available at other major retailers worldwide including Ace Hardware, Orchard Supply Hardware, Do it Best, Menards and many others.
Unlike other bathroom cleaners that keep shower doors, tubs, tile and counters clean for only a short time, Invisible Shield products simultaneously clean and protect surfaces with a lasting barrier that shields them against water, soil and stains for months. The amazing shield technology provides protection you can see, against soil, grime & minerals in one easy step. It makes cleaning the shower and bath as easy as rinsing your non-stick cookware.
The environmentally-friendly Invisible Shield kit includes everything a homeowner needs to keep their bathrooms sparkling clean & protected. In addition to the protective coating & cleaners, the kit includes an applicator, sponge and microfiber cleaning & polishing cloth.
Thanks to its patented formula, the New, Invisible Shield bathroom cleaning & protection kit repels tough water stains, as well as rust and minerals. For people who live with hard water stains, the new kit will "end the drudgery" of hard water spots and make cleaning their bathroom easier than ever.
"In addition, Lowe's shoppers who purchase our Invisible Shield shower & bathroom cleaning kit will be pleased with how easy our products are to use. They are free of harsh chemicals and odors. Invisible Shield has been used by over one million satisfied customers, and we could not be more delighted to bring the kit to Lowe's and other retailers."
For more information about the Invisible Shield shower & bathroom cleaning kit, and the extensive line of top quality cleaning products, visit the Unelko website, or stop by their neighborhood Lowe's.
About Unelko Corporation:
For over 40 years, Unelko Corporation has been a leader in the development and manufacture of advanced surface cleaners, coatings and treatments for the preservation and enhancement of a wide range of surfaces. Unelko's advanced surface care technologies have application within a variety of industries such as: Automotive/RV, Commercial Glass, Household, Marine, Janitorial, Aircraft, Solar, and Shower Glass.
For more information, please visit http://www.unelko.com/
http://cleanxproducts.com/bathroom-protection-kit/
http://www.cleanxproducts.com/
Media Contact:
Heather Ohlhausen
Unelko Corporation
14641 N. 74th St.
Scottsdale, AZ 85260
480-991-7272