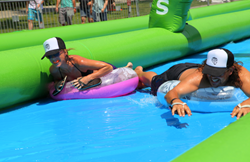 It is important that we preserve this valuable resource
Bend, OR (PRWEB) July 07, 2015
Slide the City encourages community members to get outside and stay active, even on scorching summer days, by bringing an enormous slip and slide right onto city streets. This unique event is making its first appearance in Bend on September 9, but not without first addressing concerns about water conservation during the current drought. The massive slide is designed to minimize environmental impact and minimize water usage.
"We are committed to having zero environmental impact on the communities we're in," said Slide the City cofounder TR Gourley. "We want to provide a safe and sustainable experience for all of our participants."
Approximately 9,000-20,000 gallons of water are circulated on the slide depending on weather. After thousands of participants have slipped down three city blocks, all water will go to the City of Bend Reclamation Facility to be recycled back into the community. For comparison, a golf course uses approximately 300,000 gallons in one day and public pools loose thousands of gallons a year due to evaporation.
This family-friendly event encourages all sliders of all ages to get involved in water conservation. On the Slide the City website participants can pledge to save water. They recommend shorter showers, for-going frequent car washes, watering lawns in the morning to reduce evaporation and fixing leaking faucets.
"It is important that we preserve this valuable resource," said event director Rachel Thomas. "Even if every slider reduced the length of one shower by a minute we would save 11,250 gallons of water."
Slide the City is also working with http://www.generosity.org, which is a worldwide water conservation charity that provides clean water to people in need on a global level. Additionally, in each city Slide the City works with other conservation charities referred to them by the local city council.
Visit http://www.slidethecity.com/events/bend for more information about Slide the City Bend, including dates and locations and http://www.slidethecity.com/water-conservation/ for more on what you can do to help conserve water this summer.
About Slide the City
The first event of its kind, Slide the City has seen massive growth since it started in 2014. This original concept went viral when the video was released, and this year promises to be bigger, better and wetter. Slide the City is on track to produce more than 100 events in the US and Canada and has entered several other countries around the world. Slide the City is a family-friendly event bringing 1,000 feet of padded vinyl onto city streets. This giant three-lane slide travels around the country so people from coast-to-coast can have the slide of their lives!